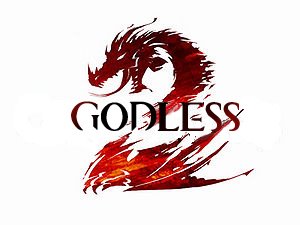 The Godless Guild Wars 2 guild has 160 members and is one of the largest guilds in the game!  You can hardly go anywhere on the Gates of Madness server without seeing an atheist.  It's glorious!
Since many of us are headed to Skepticon this year, a few of our officers have commissioned Surly Amy to produce necklaces for the guild!
I have procured upon special request and many favors promised a necklace charm made by Amy from Surly-Ramics. They will be half price to us as we are a secular organization.

The main reason we having been trying to get these made is for Skepticon 5 and a group photo (with JT Eberhard of course) . These charms are available to everyone in the guild even if you can't make it to Skepticon 5.

Here are the details I need to know ASAP:

How many are interested in getting one of these? (She will need about 2 weeks to make them)

Do you want our emblem or Godless [gdls] or another design? (I need this decided super fast as she will have to create a mold for it and have it proofed.)
My vote goes for our emblem with [gdls] underneath.  🙂  How many more of you gamers want these?  Leave comments and Nathan (the officer orchestrating this) will respond.
For those who can't make it to Skepticon, they will mail yours out.