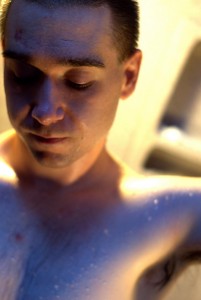 Secular Woman is putting together a risque calendar that will contain a good amount of skeptical people, including some of the popular people in the movement at present. The list is on their Indiegogo site and includes Shelley Segal, Darrel Ray, Beth Presswood from the Godless Bitches podcast, Todd Stiefel, James Croft, and August Brunsman.
And now it also includes myself and Christina Stephens, who contributes to this blog. We're flattered Bridget would ask.
I am motivated to do this for two reasons. The first is because I recently had a chat with Bridget who shares many of my concerns and goals, which made me feel excited to help the organization for which she works.
The second is because I remember when I did the risque photoshoots with Christina (which will be the ones that appear in this calendar) how good they were for me. As a recovering anorexic, taking those pictures was extremely difficult, but it was worth it. This is what flooded into my mind when Bridget asked me to be in this calendar. It will be scary, but ultimately I think it will be good for me.
I think the human body is beautiful. After those pictures, there were times when I thought mine was as well. After years of coming to loathe reflective surfaces but being unable to resist looking at them, that feeling was like breathing oxygen for the first time. I suspect that participating in this project will allow me to recapture that sensation. At least, that's the hope.