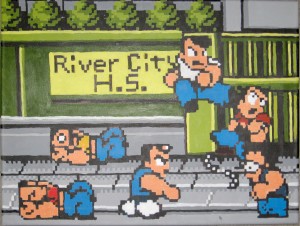 Jason Thibeault and I are gearing up for a fundraiser toward the end of this month.  We'll be hopping onto ustream for 24 hours straight, taking audience questions, and talking about religion.
Oh, and we'll also be playing retro video games the whole time.
River City Ransom?  Oh hell yes.
Bubble Bobble?  Evil will perish in eight glorious bits.
Contra?  Life Force?  Tetris Vs (Jason might own me at that)?  TMNT?  Kirby Superstar?  We want 'em all!  But no Battletoads.  Fuck that game.
We'll also be having celebrity atheist guests throughout the day and have a few already signed on.  🙂
Half of the proceeds will go to Jason's pet charity for the event, Secular Woman, and the other half will go to my pet organization for the day, Camp Quest.  I'll be throwing out more details as the month progresses.
Which retro co-op games would you like to see played?  The first person to say "Toejam and Earl" gets points for nostalgia, but gets a demerit for wanting to torture us.  Ditto for Zombies Ate My Neighbors.