I'm JT, and you can tell which posts are mine because they'll be in Green.
I'm Christina, and you can tell which posts are mine because they'll be awesome. Also the font will be blue.
---
2:01am – I *really* can't believe I blogged the whole thing!
1:59am – Obama: It doesn't matter if you're gay or straight, you can make it here in America! (and he mentioned god 3 times. kinda. (God's grace and God bless you)
1:53am – Obama: What makes Americans exceptional are the bonds we hold (NOT GOD) – love, charity, duty and patriotism (NOT FAITH)
1:50am – Obama wants to work with leaders of both parties – like reducing the deficit and reforming immigration.
1:46am – Obama: "Arguments we have are a mark of our liberty." Damn straight!
1:44am – Obama hasn't mentioned god or prayers yet.
1:43am – Everyone loves Michelle!
1:42am – Obama just called Joe Biden the Happy Warrior. Oh?
1:38am – Obama: The task of perfecting our union moves forward – because of you. You reaffirmed the spirit.. that has lifted this country from the depths of despair… We are an American family and we rise or fall together as one family and as one nation… while our road has been hard… we have picked ourselves up, we have fought our way back. We know that for the USA, the best is yet to come…
1:36am – Playing victory music! Signed, Sealed, Delivered. Stevie Wonder.
1:35am – Here he comes! He brought his ladies.
1:32am – Kitteh is no longer amused by ur politiks.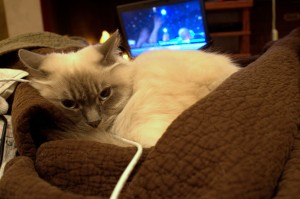 1:26am – Kitteh, and President arriving!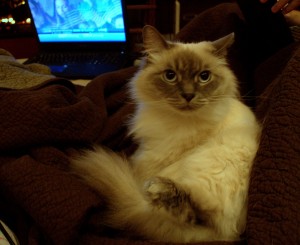 1:23am – Victory picture of kitteh coming…
1:17am – Commenter: RuQu
Bill O'Reilly on Fox News currently giving Hurricane Sandy credit for an Obama victory while continuing to harp on the Libya Conspiracy.

Fox News Blonde #11 is asking "How did we get to this point?" in a tone of shock.

O'Reilly's answer: Whites are getting outnumbered and minorities are lazy and want free stuff.
1:10am – Obama en route to give the victory speech.
1:07am – Where is ***president*** Obama? He should be out soon for his speech.
1:05am – Oh hey, that WAS Mitts victory speech! he just changed a few words. I could tell.
1:04am – I can't believe I blogged the whole thing!
1:01am – Florida still outstanding, however Obama still in the lead there. 97.9 reported 49.9 for Obama, 49.2 for Romney.
12:56am – Mittens – The nation is at a critical point – our leaders have to reach across the aisle. Job creators – invest! I believe in America! I ran for office because I'm concerned for America. We will pray for this nation! Praypraypraypraygodbless.
12:55am – Mittens congratulates The Barakuda. He prays that the president will be successful in guiding our nation. He says thank you, but his face says, "Fuck you".
12:55am – Here's Mittens!!
12:53am – Romney is getting mic'ed up. Let's hear it, Mitt.
12:50am – Romney is apparently making a speech at 12:55.
12:43am – Romney has called the president and conceded!
12:42am Maybe Mitt is waiting for his divine providence.
12:36am – Obama takes Virginia!
12:27am – Tammy Duckworth was elected to Congress. She is a double amputee and a veteran. Obama is up in the popular vote.
12:26am – Romney still hasn't conceded.
12:21am – Washington state votes to legalize pot! Still illegal federally though.
12:13am – CBS is projecting Ohio for president because the president has done well in swing areas.
12:10am – Obama has Colorado.
12:05am – Is Nate Silver a witch?
12:00am – Fox ran out of things to talk about and ended streaming election coverage.
11:57pm – I screwed up my times! I fixed them. I can't wait to listen to Glenn Beck tomorrow.
11:53pm – Tammy Baldwin wins senate seat in Wisconsin. This is awesome because she is gay.
11:52pm – FOX: "We're going to continue to lose jobs." In order to "continue" doing something, it must be happening at present.
11:44pm – Romney campaign refuses to concede Ohio.
11:43pm – Guess what conservatives. The scary black socialist communist atheism Muslim born in Kenya got re-elected.
11:42pm – Fox is in full meltdown, LMAO
11:38pm – Fox is complaining that the system is gamed. Karl Rove says the Ohio call is too early.
11:36pm – Fox news is finally whining about the electoral college.
11:34pm I never thought I'd see the day when a state would legalize marijuana for recreational use. This brings a tear to my eye. Please release all those prisoners who are in jail for selling pot, Colorado.
11:32pm – Barakuda!
11:29pm – Everyone wins when pot is legalized.
11:28pm – "We can't go spouting nonsense and War on Reality talking points" Fox news?! Really? You just said that?!
11:26pm – Fox news is talking about Twitter again. They look shamed.
11:25pm – Fox Newscasters are talking about how Obama wants to tax us is into oblivion and how he is the worst president for the poor.
11:24pm – Fox News reassuring us that we will all be okay. Don't panic!
11:23pm – Obama just tweeted "Four more years."
11:22pm – Fox news is showing footage of Chicagoeans celebrating. They are reading chatroom texts: "Goodbye America".
11:20pm – To all you teabaggers who said you'd leave the country if Obama got re-elected… You need some help moving out?
11:19pm – Switching back to Fox news! I want to see them cry.
11:18pm – …but Romney has like a million more popular votes.
11:18pm – There go your guns and bibles! ABORTIONS AND GAY MARRIAGE FOR EVERYONE!
11:17pm – We're not completely satisfied with these projections! Really? HE WON?
11:14pm CBS says OBAMA HAS WON!!
11:07pm – Marijuana is legal in Colorado! Medical marijuana is legal in Massachusetts! Gay marriage is ahead in Maryland!
10:55pm – Mitt is projected to win north Carolina. Obama wins New Mexico. Electoral count so far: Obama has 243, Romney has 203.
10:53pm – Kyrsten Sinema (AZ) has a slight lead for congress – she's an atheist!
10:45pm – Come on, call Florida! We're on our toes here!
10:38pm – The first time I voted was in 2000. I think I voted for Nader. Maryland's marriage equality measure is now in a dead heat.
10:37pm – Mitt Carries Arizona. Surprise! [end sarcasm]
10:34pm – DC is 48% reporting, 91/7 in favor of Obama. Yeah.
10:30pm – Did you miss me? Minnesota is projected to go blue.
10:11pm – Romney needs Florida, Ohio and Virginia to win.
10:09pm – Romney wins in Missouri… of course. *angry but expected fist* I sure feel like my vote here doesn't count for much. Blech.
10:07pm – Claire McCaskill projected to win Missouri! Legalization (not just medical) Marijuana is ahead in Colorado 54/46.
10:02pm – New Hampshire and Wisconsin have gone to Obama. They are battleground states. MASSACHUSETTS APPROVES MEDICAL MARIJUANA!
10:00pm – Polls are closed in all battleground states!
9:59pm – Fox calls Warren the winner in MA.
9:58pm – 85% reporting in Florida, Obama up by 43000 votes. The election could end right here. Ohio only has a 4% Obama lead.
9:53pm – NBC rescinds its call of Elizabeth Warren winning. That race is still open.
9:50pm – Time for CBS coverage! Obama has 157 electoral votes, Romney has 153. Ohio down to 52/47 in favor of Obama.
9:49pm – Fox Newscasters: "The president has to reach across the aisle." He has!
9:42pm – I'm Skyping with my friend Shelley – I put the iPad in my shirt so she can see what I see. Also, Obama has a 20,000 vote lead in Florida, 84% reporting. Ohio is closing though, 42% in, 52/46 in favor of the Barakuda.
9:36pm – Virginia 51/47 in favor of Romney.
9:34pm – Fox still hopes that people split the ticket in Ohio and maybe will vote for Romney.
9:32pm – Obama pulling ahead in Florida, now up by 14000.
9:28pm – Fox is showing brief numbers! Fox Newscaster is "surprised and saddened that Ohio is not looking out beyond its own borders"
9:27pm – Fox Newscasters talking about how if Romney does not get Ohio, it's over. Yes.. That's right Fox!
9:25pm – Obama is back in front in Florida! 80% reporting, 50/49 for Obama, he is up by 8800 votes.
9:23pm – TishaUnarmed joins our party. She wants the mean Big Bird man to lose.
9:20pm – We switched back to Fox News because we are gluttons for punishment. They think Republicans will retain control in the house.
9:19pm – Romney pulling ahead in Florida.
9:10pm: Sarah has joined our election party! North Carolina is 64% in, 50/49 in favor of Romney – should have been a blowout.
9:09pm – Gay marriage bills: Maine – losing 49/41. Maryland – winning 57/43.
9:04pm – Here's a pic of JT and I using all of our screen clout to live-blog every few minutes. Also cat.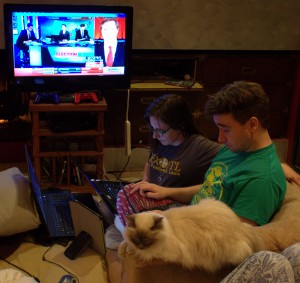 9:02pm – CNN: Mitt projected to win some states he was already projected to win.
9:01pm – CNN: Kansas' projected winner is Romney. I could have called that last week guys.
8:58pm – Obama has 78 electoral votes, Romney has 82. Also, churches are still being used as polling places. I have a problem with this.
8:56pm- Romney has written a victory speech, but not a concession speech. I hope he gives his victory speech anyway when he loses.
8:50pm – Amendment 8 falls in Florida, good news for the separation of church/state, bad news for Romney.
8:41pm: Here's a pic of our Cuddle Pit full of screens. Also, Virginia is 32% reporting in, 55% Romney, 44% Obama.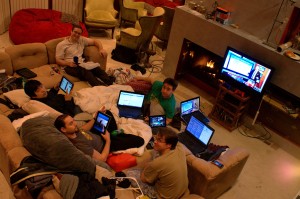 8:39pm – There is no more sad body language from Fox newscasters for us to smile at since we switched to ABC.
8:31pm – Florida numbers: 56% of votes in, Obama is 51%, Romney is 48%.
8:28pm – Fun fact: It might be illegal to post a picture of your ballot to social media sites? Check this out.
8:27pm – Holy hand grenades, ABC has numbers!
8:26pm – If you're in a poll anywhere in the USA and they close, STAY IN LINE. They legally have to let you vote.
8:23pm – Due to Fox refusing to put up any freaking numbers, we're switching back to ABC. Fox keeps saying that they'd be calling the election for Romney if Romney were "more inclusive".
8:20pm – Fox FINALLY put up some stats. Obama is at 50% of the popular vote, Romney is at 49%. Then they took the stats down.
8:18pm – Aikin and Mourdock are being crushed in polls.
8:15pm – Fox Official Latino Newscaster: If Mitt Romney had McCain's numbers for latino voters, we'd be calling the vote for Romney.
8:13pm – Newscasters: "Each side says they are going to win, but one side must know they are wrong." Um… Ya think?
8:09pm – Fox Newscasters say: Hurricane Sandy was positive for Obama, but telling people to "vote for revenge" hurt him.
8:06pm – So far, Fox News it talking about Twitter. FOXNEWS: our job is to make it look like we're winning!
8:02pm – Exit polls in Ohio have Obama up 51% to 48%! w00t!
7:51pm – We're streaming ABC for the next 8 minutes until we switch to Fox.
7: 38pm – I listened to Fox News Radio while picking up my friend to bring him to our party and they are sure Mitt will win.
7:22pm – In Virginia, Dems are ahead in the preliminary polls.
7:18pm – This year the white vote is down and the Latino vote is up. That bodes well for Obama.
7:07pm – Everyone leave some supportive comments for Michaelyn. She's drinking every time the CNN crew says "Ohio."
7:02pm – I've got a great idea, nation; let's do this the easy way. Romney loses Florida early and we know who the next President is going to be before bedtime. 🙂
Ok, it's closing in on game time. Christina and I are ordering pizza and getting ready to chill with all of you guys. We've settled on…*sigh*…Fox News, so please hang around in the comments and keep us company (and tell us what real journalists are saying).