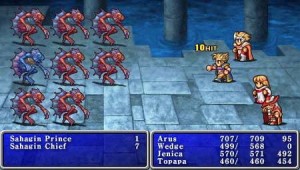 Not a lot of heavy lifting on the blog today.  I'm still running a fever and didn't sleep well and Michaelyn had dentistry work done and is all numb.  So how about some lighter fair like game reviews?  😀
First, I've managed to find the English-translated roms for Shining Force III!!!  Why is this so awesome?  Well, back in the early to mid 90s there was a golden age of RPG games.  That was when we were lucky enough to have masterpieces like Chrono Trigger, Final Fantasy IV and VI, Secret of Mana, Earthbound, and others.  It was a glorious time!  One of the series that flew under the radar at the time, but was every bit as good (and which has since developed a following amongst retro RPG nuts) was Shining Force.  The original and its sequel were both released for the Sega Genesis and my brother and I rented and re-rented the first continually.  We also pined for the sequel which never showed up in any of our video stores (which is probably why it's a sought after cartridge for collectors).
Anyway, later emulators would be a thing and I would finally taste the glory that was Shining Force II.  It was so good!
Then I learned that there was a third game made for Sega Saturn.  The game was released in three parts, but wasn't initially translated and released in the US because it came on the very back end of the Saturn's life span.  Eventually the first CD was released with a mangled story that gave closure, so the fans hopefully wouldn't lament not getting the last two of the three chapters.  Well, the fans did lament, and a translation project was launched.  And now, I have the roms for Shining Force III in English!  W000t!  I will undoubtedly spend a fair portion of December playing through this beauty!
Other games I've played in the last few months:
Borderlands 2: B+
Solid game for multi-player fun.  It really does rock with a group (maybe we can get some godless peeps together for a game come December).
The single-player was a little blah, though.  The voice acting is solid and the controls are easy to pick up, but it got too repetitive.  Handsome Jack is the real hero though.
The game doesn't get an A- because a week after release they put out some DLC which most of us had to pay for if we wanted to play the new mechromancer class.  That's right, presumably they produced a whole new class, complete with artwork in a week.  Or, more likely, it was ready at release and they just wanted to bilk a few extra dollars after we doled out $60 for the game.
Torchlight 2: A-
Dungeon crawler that runs smoothly and is actually a lot of fun.  Way cheaper than Diablo 3 and yet infinitely more enjoyable.  Although, to be fair, so is a root canal.  Pick it up for $20 if you miss old school Diablo and want to see a simple, but vast improvement on the idea.
The Walking Dead:  A
How had I not played this game?  It's a story driven zombie survival game.  Ordinarily I like more blood and guts, but this one is so well produced that you actually feel like you're in a movie.  I always watch zombie movies and yell at the characters for not making the obviously right choices.  However, when I'm put in those situations, the choices aren't always so obvious.  They are also continuing to release new episodes, so the replay value of this one is pretty high.  At $25, it's a pretty good deal.
Portal 2:  A+
I actually never played the first Portal game, but now I may have to.  This is what Adventures of Lolo could be if you made it 3D and game it a sci-fi twist.  Plus, there's a two-player mode which Michaelyn and I have played partially through.  If you like puzzlers, this is a great pickup!
I also have a new tablet (an ASUS Transformer).  I got it a few weeks ago and, frankly, I'm not sure how I lived without one.  It runs powerpoint, so no more lugging my monster gaming laptop around with me when I travel.  The TSA will be grateful.  The other upside is that now I can game on airplanes!  Toward that end I've grabbed the remakes of Final Fantasy I and Final Fantasy III.  I've been able to drop about ten minutes into FF3 and can't wait to travel to my next gig so I can justify playing it some more!
I remember playing the first Final Fantasy.  I was so sad to abandon the franchise after FF12 (X-2 was the biggest pile of shit on the PS2), despite what a masterpiece I thought FFX was.  The updated graphics and game play for the original have me dying to play it again!  Gaaaaaah!  So many games on my retro list for December.
I will probably play them in this order:
1.   Shining Force III
2.  Final Fantasy III
3.  Final Fantasy
That's how you know I'm a retro gamer – I'm going to get through all the old school favorites before I even start trying to conquer Portal 2!  😛  Who do I have to kill to get a FF4 and FF6 port with updated graphics like these?