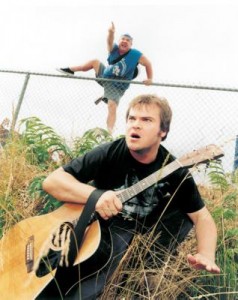 I'm going to have to have some words with my friend Kate, who goes to Kent State. Apparently Jack Black and Kyle Gass (the duo that makes up Tenacious D) bought a tour bus, took it to Kent State, and have been carting students back and forth to vote early for Obama while rocking.
Jack Black and Kyle Gass — the comedians, actors and musicians behind Tenacious D — are coming to Kent State University Friday to get out the vote for President Barack Obama.

Tenacious D is expected to arrive at the Kent State M.A.C. Center around 11:30 a.m. The band will meet and greet students at the Kent Student Center, and then join students as they ride a bus to the Portage County Board of Elections to cast ballots until it closes.
And here I am in St. Louis. Damn the luck!