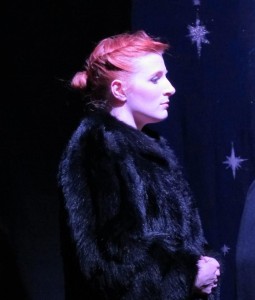 Ashley Miller over at freethoughtblogs has one of the most heart-rending blogs I've read this year. You see, Ashley is dating a black man. He's a good man; he's kind, smart, and has his shit together. While most parents fear their daughter will come home with a guy in cut off shorts and smoking a cigarette, Ashley has landed the type of guy who should make any parent exhale with relief. And her father likely would've done just that…if he were white.
But his skin is not white, and so Ashley's father has disowned her.
I'm sorry to be doing this over the phone, your father has forbidden me from seeing you in person. I'm sorry, he just cannot support your lifestyle anymore, he will not be speaking to you again, he asked me to tell you.

That was my stepmother, the day after Thanksgiving, the day after she discovered I was dating someone. Someone who was not white. Someone who was black. Someone who was sitting in the next room and knew what the phone call was going to be about before it even started.

Your father wants you to know that he still loves you. But you've gone too far.

She won't say the reason. She won't acknowledge that it is a race thing. Like not saying "because he's black" makes it not racist.

Your lifestyle is just not OK with him, he has bent as much as he will bend. He has bent so much and you haven't bent at all.

I insist on clarification, "My lifestyle?"

Yes. Your father is an old Southern man, he was raised like that, he was raised to believe that races just don't mix. It was the final straw. He loves you, he just doesn't like you.

"So, this is entirely because he's black?"

I told him it didn't matter to you, that all you cared about was that someone didn't believe in God and nothing else. But he just can't bend anymore. You knew this would be his reaction.

I was admittedly worried he'd disapprove, but then he'd meet the boyfriend and like him and it would be fine. Also, my boyfriend isn't even atheist.

We're not telling you what to do. If you love him, you should be with him. But I'm going to stand by my husband, just as you some day, if you get married, will stand by yours. We both love you, he's just not going to talk to you. Maybe, in a long time, he might change his mind, but I don't think so. I think it was too much.
Ashley sums it up beautifully. I wish I could just quote the whole post, but this says it all.
I could have pointed out all the things that I haven't done to be a disappointment to him. I mean, yes, I'm a liberal who supports equality, but I just keep making a list in my head of all these other things I could have done that would have been upsetting to him*:

I have never been a drug addict
I have never been a drunk or alcoholic
I have never killed anyone
I have never been arrested
I have never been a sex worker
I have never gone through a rebellious phase
I have never gotten pregnant out of wedlock
I have never failed school

I am, in general, pretty much the opposite of a fuck up, and I sit here and wonder… would my father like me better if I'd gotten drunk and run someone over and been sent to jail and dropped out of school… and I think the answer is yes and I don't know what to do about it.

I don't know how one goes about coping with these things. I have a very supportive family, friends, and boyfriend. And Dad and I were never super close. And, perhaps there were things I could have done better, but none of them change the fact that my dad is the kind of person who would disown their only child for dating "out of race".

And I know some will say that I'm better to be rid of him, and maybe they're right. Maybe it's a relief to just be able to be myself without that particular Sword of Damocles hanging over my head, but he's my dad. And I'm his only kid. Well, not anymore I guess.

I guess it's sort of like a divorce. I don't even think I have any insight to add to this other than the following: This still happens in 2012 in the United States.
What do you say to someone who just lost their father by intention, rather than by fate? We do not live in a universe that cares about justice, otherwise a father-daughter relationship would never die while racism continues to live. It's a good thing that humans do sometimes care about justice, because the cosmos sure as shit doesn't.
I know it's not the same, Ashley, but there are thousands who accept you and love you for everything that you are, rather than by some arbitrary, random association. How many people need to love a person in that way to make up for the loss of a parent's love? I don't know, but I hope, in this case, that we can find out.