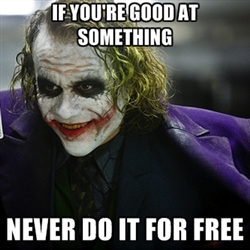 You know the two industries that continue to thrive during an economic downturn?  They are education (people picking up skills to get employed) and entertainment.  People want to be entertained.  It's why more people are outraged about Manti Te'o's faux girlfriend than about drone strikes killing innocent people.  Lesson?  Make your activism entertaining if you want it to work.
Consider hanging these bad boys all over your campus, like the University of Saskatchewan Freethought Alliance did.
This makes me a happy JT.
So, for three days these students handed out the following menu to passersby.
Freaking epic.  When you do activism like this, you don't get burned out.  You actually have fun while raising money or protesting or…whatever.  Anytime someone tells you to take things more seriously, tell them that people like being entertained.
Oh, and I should also mention that aside from keeping you smiling while you make the world a better place, this type of activism also works.  When you're happy and laughing, so are other people, which makes them much more likely to help you.  This particular enterprise raised $1,200 for Doctors Without Borders.
The reception to the event was overall very positive, with several outspoken religious people coming forward to hug and donate to the heathen atheist cause. There were, of course, a few dirty looks and hushed comments, but I doubt you could hold any kind of event without a few of those.

Overall, we raised $1200 between a dozen or so huggers. It was a successful and fun event that helped put a positive light on atheists in our university.
Click on ye olde link above for yon pictures of the event.  😛
Make no mistake: as awesome as I'm sure the hugs were (you guys all know I'm the biggest cuddle slut in existence, so I'm not knocking hugs), the donors weren't really paying for hugs.  A few were supporting a cause they believed in, but I'd wager most of them (especially the religious donors) were financially rewarding a group that had entertained them, and that where the money was going was a distant concern after showing their appreciation for the laughs.  Learn from this, and don't make your own activism a chore.
This even was absolutely genius.  A big round of applause for the University of Saskatchewan Freethought Alliance.