Camp Quest Oklahoma was running a fundraiser with the help of a restaurant called Oklahoma Joe's BBQ. The organizers of CQ OK met with the restaurant a full month ahead of time. In that meeting, the representatives of the restaurant signed off on this flyer.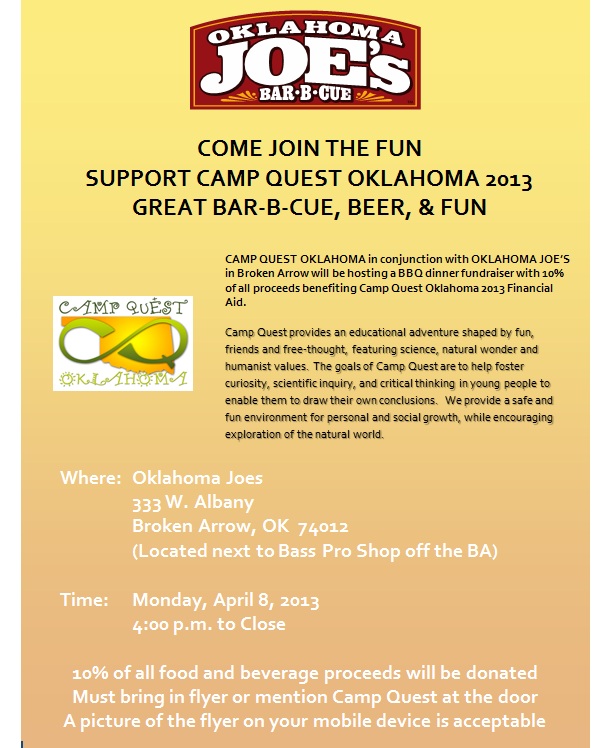 And it's not like Camp Quest makes their mission a secret. So the restaurant had to know what they were getting into. So over one hour into their fundraiser, this happened: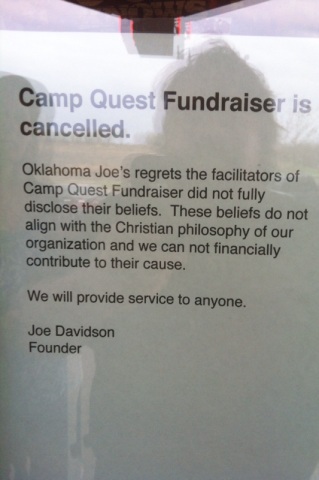 Those attending the fundraiser then had to fight for their money back. The organizers had been planning this for weeks.
Immediately negative comments started piling up on Oklahoma Joe's facebook page. Oklahoma Joe's has since taken down their facebook page. I guess they're not too proud of discriminating and would rather do it in secret. Oh silly Oklahoma Joe's…somebody really needs to teach them about the Barbara Streisand effect. I imagine people will wind up donating even more to Camp Quest Oklahoma or to Camp Quest national in response to his antics.
Someone also needs to tell them that atheists are used to this bullshit, so we take screen caps.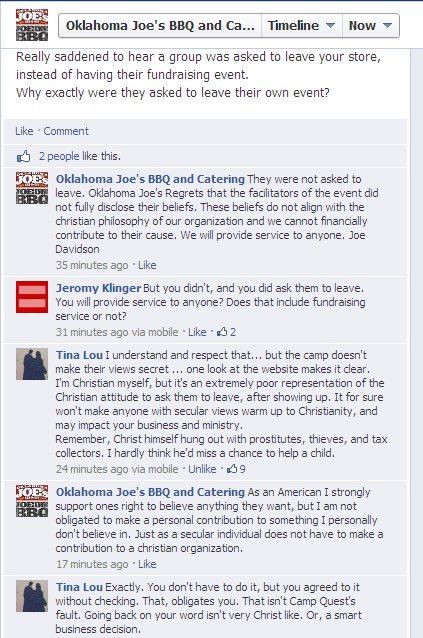 It's true: he doesn't have to financially contribute…unless he's obligated himself to, and after weeks of the organization taking him at his word (something about the ninth commandment). And as if that wasn't slimy enough, now he's taken down the facebook page so people can't complain.
But they have a phone number. In fact, it's (918) 355-0000 (deluge them with measured rage, but don't be belligerent). Oh look! They have a twitter account too (@OkJoesBBQ)! How about the hashtag #BigotBBQ? That should do nicely. And what's this? Why, it's the restaurant's Urban Spoon page.
If you're going to be a terrible human being because of your Christian principles, at least have the courage to do it in the light. Wear your dishonesty and your bigotry around your neck like a big, gaudy cross. Here, we'll help you.
If you get any responses from Oklahoma Joe's, send them to me at wwjtd21 [at] gmail [dot] com.
And somebody teach him that atheists own the internet.
---
UPDATE:
Joe Davidson has now changed his story up a little bit as people are calling in. He is saying the CQ OK people showed up to hand out literature at the restaurant, without permission, and the people who showed up with the flier were given the 10% back and said they should donate it as they see fit.
The first part is untrue, according to the organizers. They say they had permission, and that the brochures were sitting on a table by their fundraiser. They also said the 10% was only given back after massive complaints.
Ed Brayton is saying that what the restaurant did was illegal:
A lawsuit should be filed immediately. This is very similar to what happened to us at CFI Michigan in late 2011 when a country club canceled a dinner with Richard Dawkins. The fact is that it does not matter whether the group was clear about their atheism or not, it is a violation of federal law and Oklahoma state law as well. Federal law says:

All persons shall be entitled to be free, at any establishment or place, from discrimination or segregation of any kind on the ground of race, color, religion, or national origin, if such discrimination or segregation is or purports to be required by any law, statute, ordinance, regulation, rule, or order of a State or any agency or political subdivision thereof.

Any business that offers public accommodation (that is, if they're open to the public) cannot discriminate on the basis of religion, and that includes discrimination against atheists. The country club that discriminated against CFI Michigan just settled that suit, which they were likely to lose if they went to trial.

What Oklahoma Joe's did is illegal. They need to be held accountable for it.
Uh oh. If you thought an internet full of angry atheists can cost your business money, wait until lawyers get involved.