It's great to win without even having to threaten to file suit. That's what The Freedom From Religion Foundation manages to do on a regular basis.

All it takes is a complaint and a little proof, and FFRF will contact an offending government entity and ask, firmly but politely, that the religious material be removed from public display.
That recently with respect to the Breathitt County Schools in Kentucky.
FFRF contacted the manager for the school system, Larry Hammond, on April 5 about the postings. FFRF Staff Attorney Patrick Elliott wrote to the school district saying that the display of the Ten Commandments throughout the schools violated the Establishment Clause, asking that the principals of the Breathitt County Schools be directed to remove the Ten Commandments. The Ten Commandments were displayed in almost every room and hallway of the schools – they were not just in one place, but all over the place.
The Supreme Court has already been there and done that with respect to the Ten Commandments in Kentucky public schools. In 1978 Kentucky passed  law requiring that the Ten Commandments be posted in every classroom in the state. Not surprisingly, someone sued, claiming violation of the Establishment Clause. When the case got to the United States Supreme Court, a long-winded written decision was deemed unnecessary. In a short per curiam opinion, the court basically said, "Take the religious documents down." End of discussion. (Justice Rheinquist dissented, but not very strongly.)  It was clear that, no matter what the language of the statute claimed about the commandments forming the basis of all the laws of Western civilization, posting the Ten Commandments in Kentucky schools was motivated by a religious purpose and is unconstitutional.
A
Breathitt student informed FFRF
on April 11 that many of the displays had been removed. Hammond, the manager of Breathitt County Schools, was appointed by the Kentucky Department of Education to oversee the
troubled school system
. Apparently Hammond has some sense.
And FFRF earns yet another upvote.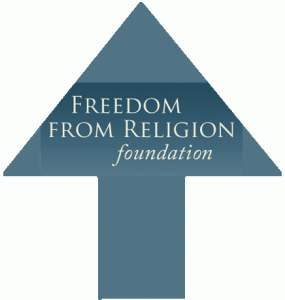 FFRF does not limit its objection to schools, It recently sent a letter to the Hattiesburg, Mississippi mayor, who sponsors an annual prayer breakfast. The city not only organizes the prayer breakfast, but sponsors a Christian speaker and charges $40 a head for the honor of witnessing government prayers.  We'll stay tuned to see what happens.