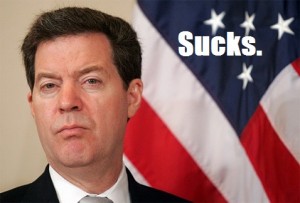 Sorry for the redundancy.
I'm kind of torn on Kansas.  On the one hand, it has my fiancee in it.  On the other hand, it has Sam Brownback.
On Tuesday, Kansas GovernorSam Brownback (R) signed a law aimed at prohibiting local governments from requiring contractors to pay prevailing wages on public works projects:

"HB 2069 prohibits cities, counties, and local government units from using ordinances, resolutions, or law to require private employers to provide leave, benefits and higher compensation."
It's a tough, tough call.
And it's Kansas, so you know some of the workers Brownback just shit on would vote for him again because Jesus.