Hyper conservative rallies in DC haven't lived up to the hype as of late. Remember the time that thousands of ex-gay activists were going to send a message to Washington?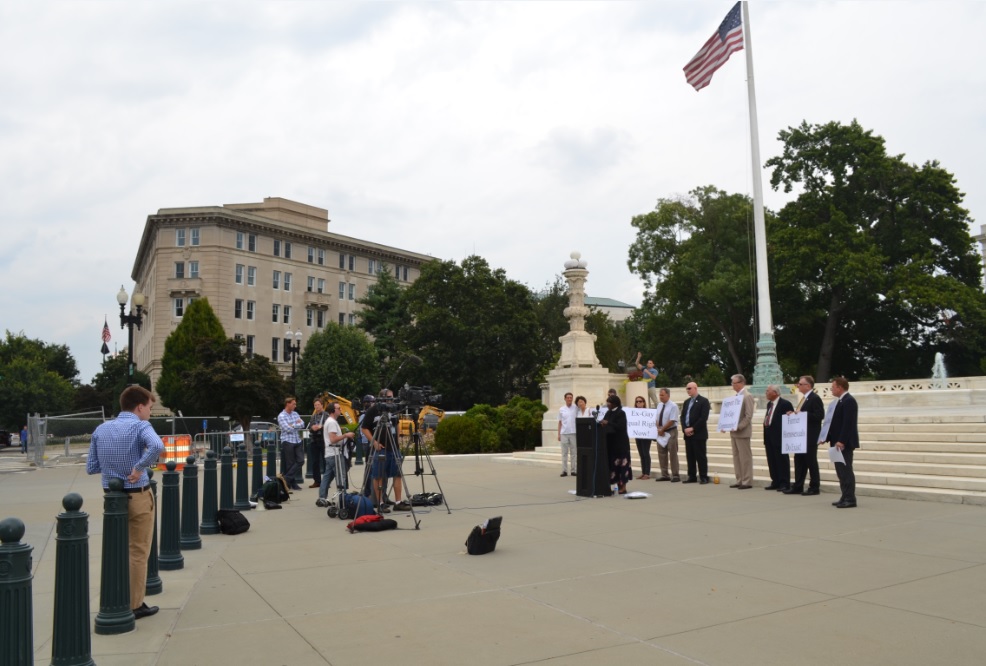 "Thousands."
Or the time "thousands" were going to bombard the Capitol in an effort to defund the Affordable Care Act?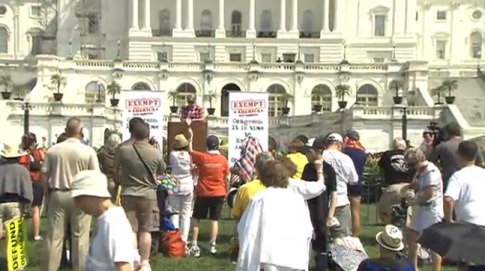 Yes, thousands…and one lady on the right side who looks like she wandered into the shot lost. So thousands minus one…So back in January when
we heard
the hype about Operation American Spring, some of us (
like me
) were skeptical:
Harry Riley has a dream. On the morning of May 16, somewhere between 10 and 30 million (estimates vary) God-fearing patriots will assemble in Washington, DC, for what Riley, a retired Army colonel from the Florida panhandle, is calling "Operation American Spring." They'll protest outside the White House by day and set up in campgrounds and RV parks outside the city by night. They won't leave until President Barack Obama, along with Attorney General Eric Holder and congressional leaders of both parties, resign and appear before a specially convened investigative tribunal for further disciplinary action—a polite version of a tea party coup. It's not likely to happen—but two former Fox News personalities have endorsed the endeavor.

"We have 1.8 million definite militia members coming," promises Operation American Spring spokeswoman Karen Smith. (The Anti-Defamation League pegs the number of American militia members at about 20,000.) "Other than that, we're not keeping a list of concerned people or whatever because how are we gonna do that?"

According to Riley's introductory note, which he posted on Facebook, about 1 million activists will stick around DC after the march in a nonviolent attempt to shut the city down. According to the the document, the real work will occur after the transfer of power: "Those with the principles of a West, Cruz, Lee, DeMint, Paul, Gov Walker, Sessions, Gowdy, Jordan, Issa, will comprise a tribunal and assume positions of authority to convene investigations, recommend appropriate charges against politicians and government employees to the new U.S. Attorney General appointed by the new President."
30 million people? 1.8 million militia members definitely coming? 1 million staying around afterward to shut down the city? Going to impeach the President and then transfer power to their politicians? HOLY FUCKING SHIT!!!! TEA PARTY STEPPING IT UP!!
Back in January I made a prediction about Operation American Spring:
I'm going to go out on a limb and make a prediction: on May 16th a few old white guys who love guns but don't know shit about American history or law will meander around Washington DC grumbling a bunch of buzz words they heard on Fox News. There will be American flags and a podium and it will ultimately pale in comparison to something like, say, the Reason Rally.
Behold and kneel all ye doubters, for I am a prophet. Brace yourselves for this image of 30 million "patriots":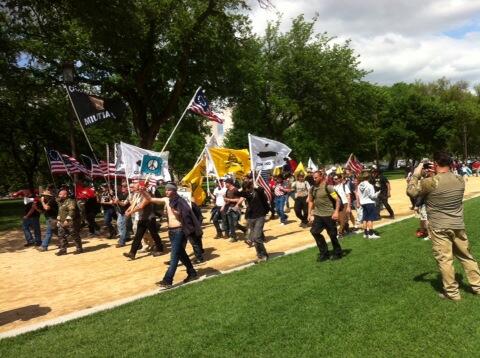 That looks like about 50 people. Of course, when you think the universe is 10,000 years old rather that 13.8 billion years old, I can see where this would look like 30,000,000 people. It's not that the organizers were dishonest (because god-fearing people would never lie), it's just that they're really, really bad at math (but they make up for it with a disproportionate love of firearms). It turns out more people showed up to document the failure of American Spring than actually showed up for the rally.
Looking on the bright side, they had plenty of chairs: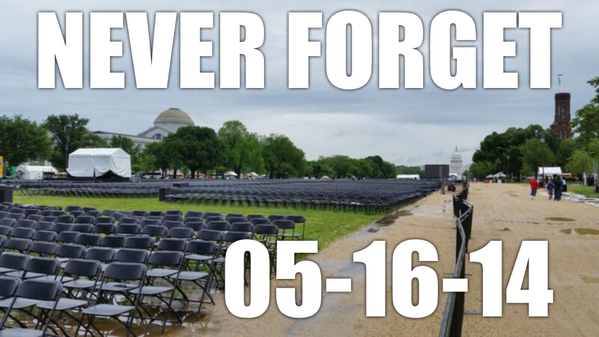 This came as a shock to those of us who saw this image that the organizers of the event put out: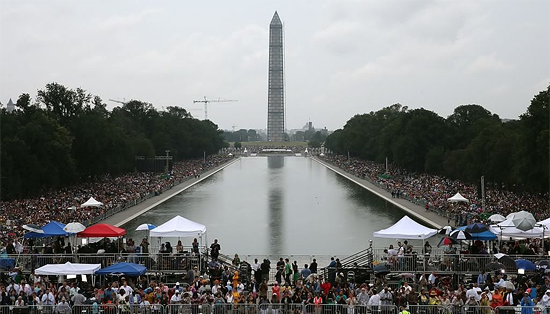 Would you believe that's not the American Spring rally at all?
Unfortunately for the OAS folks, it's not from today or yesterday. That's really a photo of the 50th Anniversary of the March 8, 2013 50th Anniversary of the March on Washington and the iconic "I have a dream" speech from Dr. Martin Luther King Jr.
It was an innocent (and coincidentally flattering) mistake, not a lie! God-fearing Tea Party types would never, ever lie.
I spent a good part of Saturday night contributing to the #AmericanSpringExcuses hashtag on twitter. My tweets focused on seeing things from the perspective of the Operation American Spring organizers:
They said the rally started in "50 minutes" which would-be attendees took to mean it was in 30,000,000 minutes. #AmericanSpringExcuses

No wonder #AmericanSpring attendees love Tim Tebow – by their math he completed 9,000,000% of his passes.

By #AmericanSpring math I lived in a 1,200,000 bedroom apartment.

#AmericanSpring is to revolution what a toddler is to an offensive line.

Congrats @keithlowell! By #AmericanSpring standards you've just sold your trillionth album! 🙂

30,000,000 would've shown up at #AmericanSpring if not for Benghazi. #AmericanSpringExcuses

I think 29,999,950 didn't show up for #AmericanSpring when they realized Jefferson Davis wouldn't be speaking. #AmericanSpringExcuses
One of the organizers was on twitter trying to garner support for the 50 people who showed up. At one point she tweeted at Fox News: @FoxNews get your asses to DC and cover #AmericanSpring! I felt like a kid in a candy store:
Don't lie, you just want the camera crew there to double your turnout. RT @mefbama: @FoxNews get your asses to DC and cover #AmericanSpring!

Can you accommodate their crew of 1 trillion people? RT @mefbama: @FoxNews get your asses to DC and cover #AmericanSpring!
At one point she called for people to retweet her to show their support. I took it a step further:
Sure thing. By your math, I'll RT it 600,000 times. 😛 RT @mefbama: @dmbatten2 Please RT your support for #AmericanSpring#ImpeachObama
Because I'm a helper.
The epilogue of Operation American Spring is a sad one. The president was not impeached. Signs being held at this unfathomable failure of a rally ironically called the President a failure, like a jr. high dropout complaining that Stephen Hawking isn't good enough at math. The actual excuses ranged from getting a little bit of rain that weekend (note: next time schedule revolutions for sunnier weather) to Glenn Beck sabotaging the rally (by reporting that a few dozen people showed up).
These people insist they have the organizational know-how to run a country. It's a pity they lack the elementary intelligence to see how ridiculous they are.