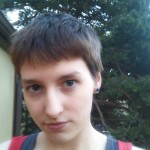 Let's throw in some sexiness to spice up the blog this Friday evening!
There's a Kickstarter going for the next 38 days to fund a device intended to help people with vaginas strengthen their pelvic floor muscles via Kegel exercises. It's pretty nifty!
They're calling it the kGoal Smart Kegel Trainer, and they've currently received $12,581 of their $90,000 goal, to be achieved by August 4th. The idea is that this squishy silicone thing (pillow) goes inside the vagina, while the little attachment (arm) rests in front of the vulva. When the muscles are contracted, information about the strength and duration of the squeeze is sent to an app on your phone, where you can view it in real-time. The app is supposed to help track your performance over time and record your workouts.
The pillow size can be adjusted by letting air in or out. The arm has the on/off button, status light, and of course is where the charger plugs in. Here's the fun part: both the pillow and arm have "vibrational feedback motors" that can help the wearer tell the varying strengths of their muscular contractions. kGoal is specifically not marketed as a sex toy, but apparently just wants consumers to feel very good about exercising. XD
The Kickstarter page lists several reasons why it's healthy to have strong pelvic floor muscles (as opposed to the normal rhetoric about how vaginas should be "tight"):
Pregnancy: they are critically important during and after pregnancy, both in helping the body manage changes arising from the pregnancy and also in recovering more readily after birth.
Bladder control: they control the bladder and can prevent incontinence caused by stress, post-partum effects, aging, or other factors. Over 76% of [people with vaginas] experience incontinence issues at some point in their life – strong pelvic floor muscles can prevent or resolve many of these problems without the complications of surgery.
Musculoskeletal stability: they support abdominal organs and provide stability for the entire pelvic region and lower spine; when weak or unstable they can cause back and pelvic pain.
Pleasure: they are an important part of a healthy sexual response for [people with vaginas]. Strong pelvic floor muscles can enhance arousal and improve sensation, orgasm quality, and general sexual experience.
I left the citation link intact because why not?
Apparently the app is similar to how Fitbit works, but I've never used it so can't really have an opinion on whether that's a good thing. This is a pretty cool idea, and I'd like to see the direction this goes in. Please consider donating to the Kickstarter, as I will when I have the opportunity. 38 days left!