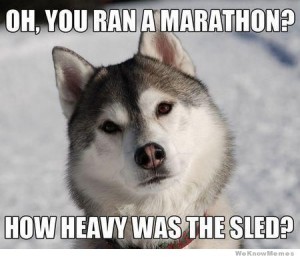 Every pet owner KNOWS their friend til the end has emotion…. they get happy, sad, anxious, and scared just like us humans. One of the theist arguments for god… morality, consists of the premise that ONLY humans have emotion, ONLY humans know what is right or wrong…. or in this case what is fair. This is an oldie but goodie….
While dogs may hate baths or being scolded… the Husky language is just hilarious. It also makes them so hard to scold or punish while you're laughing!
An old video from Gone To The Snow Dogs… the "Hammock Husky" post people I follow… the Drama Queen in this vid is the late Shiloh, who has sadly passed. She was so animated, much like my late old Husky girl!
Husky Pack Mission Of The Day: Think about the small things. Like the PURPLExing issue of why Spelling Bees even exist!