My name is Daniel Moran. I am the stepfather of an eleven-year-old girl who just celebrated her birthday yesterday. I am a student at the University of North Texas, majoring in Political Science, specializing in Constitutional Law, and currently enrolled in the Pre-Law program. I am the founder of the Secular Student Alliance at UNT and the Texas Network Coordinator for the national Secular Student Alliance organization.
I am also the Democratic nominee for Texas House District 63, and I am running as an openly atheist candidate.
Before I go any further, I would like to say why this wasn't posted much sooner. I have been very hesitant to post this for the possible ramifications it may have for myself, my campaign, and my family.
This past weekend was a lot of firsts. For myself and for Texas.
This weekend was the first time I had ever attended a political convention. It was the first time I had ever attended as an official delegate and a candidate. It was also the first time in Texas history that an openly atheist candidate for state office attended and addressed the Texas Democratic Convention when I spoke on the convention floor to the Texas Stonewall Democratic Caucus.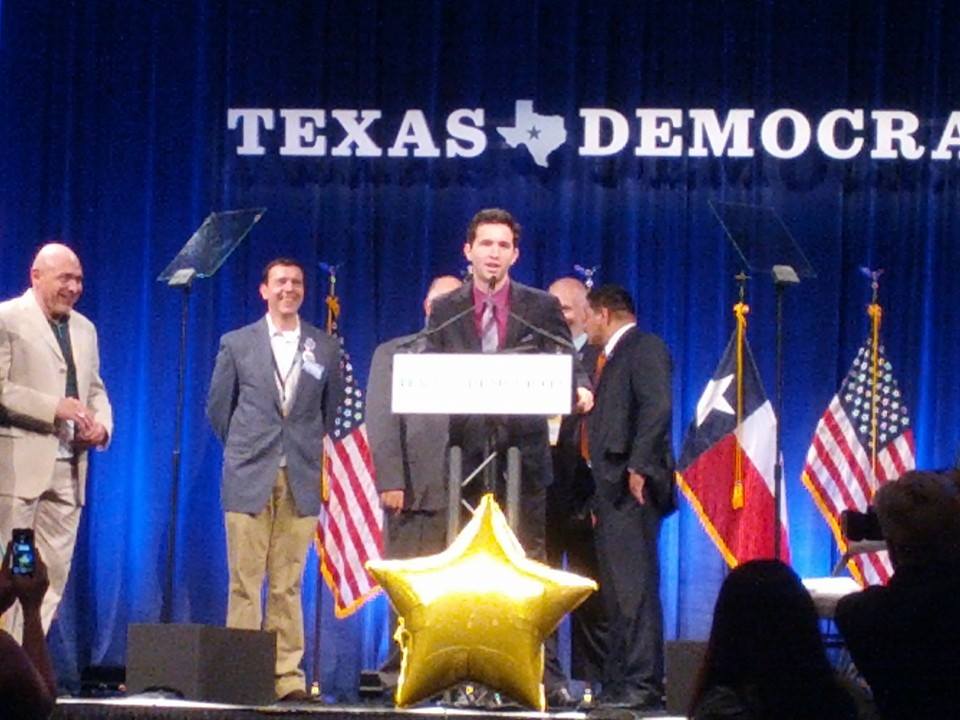 I am proud of who I am, both as an atheist and as a member of the LGBTQ community. I know the Democratic Party doesn't have a problem with the second of those two. Our party, including myself, just voted this weekend to support full marriage equality rights for LGBTQ couples and the Employment Non-Discrimination Act (ENDA).
That being said, I believe the Democratic Party has a problem with the fact that I am an open atheist and that many Texans, and many Americans, within the Democratic Party are atheists.
Now let me make something very clear: I am in no way saying that the Democratic Party, at least the Democratic Party that I know and love and vote for, is purposely trying to exclude, discriminate, oppress, or do anything of the sort to atheists.
What I am saying is that I don't feel like I belong in the Democratic Party, because of its level of religiosity.
That may seem contrary to what many, especially on the religious right, have always said about the Democratic Party. We are the party of "godless liberals," right? Wrong.
On Friday night of the convention (7/27), a whole host of candidates, officeholders, and party officials gave speeches, including keynote speaker, State Sen. Wendy Davis, our party's nominee for Texas Governor. All but one of the speeches I remember either quoted the Bible or used some kind of religious metaphor, all of them from the Bible, of course.
I am proud to say that State Sen. Leticia Van de Putte, our party's nominee for Lt. Governor, was that one person. But she was just one in a sea of Democrats speaking that night, and every single one of them, including Sen. Van de Putte, ended their speeches with, "God Bless Texas."
Rep. Trey Martinez Fischer, head of the Mexican American Legislative Caucus, used Jesus as a way to bash the Republican Party for their stance on immigration. Basically, that Mary and Joseph had gone through a perilous journey to reach somewhere far away, much like how many immigrants from Latin America take on a similar journey to reach the United States.
One of the speakers said we were an army of Davids going up against Goliaths. Another quoted Scripture several times throughout their speech, often stretching the meaning of the verse to somehow connect to what they were saying.
Steve Brown, the Democratic candidate for the Texas Railroad Commission (which has nothing to do with railroads, by the way) and someone that I fully support, said near the end of his speech, "I walk by faith, not by sight," a comment that received thunderous applause from the crowd. As if it is somehow better to believe something without evidence, or even in spite of the evidence (which is the very meaning of the word "faith"), than to believe something that is backed by the evidence and good logic.
According to Houston Mayor Annise Parker, the first openly LGBTQ mayor of a major American city, we are the party of "Faith, Family, and Freedom." While I don't contend with those last two, the first one made me squirm in my seat a little when she said it on stage to the thousands of delegates and Democratic supporters that surrounded me, exuberantly cheering.
She said we were the party of faith, because the Democratic Party respects and includes "all faith traditions." Those who do not have a faith, even a fellow Democrat and a Democratic candidate for Texas House, must not be respected or included in the Texas Democratic Party.
Mayor Annise Parker's words and presence there that night make my point all too well. An openly gay mayor of the fourth largest city in America can stand before a state convention in the South and be cheered to no end, and not a single person there will care an iota about who she is (and why should they?), and is in fact cheered for who she is (and she should be), but I as an atheist am surrounded by people who don't know I exist, that don't know that atheists are an integral part of their party.
Christians are never told their faith may alienate atheist, Muslim, Jewish, or Hindu voters, but I as an atheist am told my atheism may alienate religious voters. And, of course, Muslims, Jews, and Hindus are never told their faiths may alienate Christians or any other group.
Christians, Muslims, Jews, and the LGBTQ would never be told by the Democratic Party to not talk about who they are, but I as an atheist am asked to not talk about my atheism, that I'm shoving it down their throats.
When all is said and done, in spite of how I feel within the Democratic Party as an atheist, I feel much more welcome with them than I ever would in the Republican Party.
The Democratic Party doesn't go out of their way to deny me my rights or create a theocracy, even if President Obama and others in the DNC openly supported the ruling in Town of Greece v. Galloway. They aren't the party that denied the LGBTQ caucus admission into their own convention. They aren't the party that made gay conversion therapy an official part of their platform. They aren't the party that repeatedly has bashed, disenfranchised, and discriminated against the atheist and LGBTQ communities.
But how can we challenge the status quo of the extreme religiosity in both parties? How can we get them to notice atheists and take heed of the 15% of secular Americans?
Run. Run for office as an open atheist, agnostic, humanist, or whatever you identify as. Get involved with your local party, whether you are a Democrat or not, and see how you can run for city council, school board, state legislature, Congress, and everything in between. The more open atheists there are actually running for office, the more they have to take notice.
Volunteer. Volunteer for those who are running. Donate to their campaigns. Find the candidates that will support a secular government that respects people of all faiths, including those of no faith, and that will support evidence-based policy decisions.
Vote. Vote, and we can become a voting block to rival conservative evangelicals. We can become a demographic that must be courted by politicians, that can sway elections, and that can make or break a candidate's dreams, but we have to vote!
I ask for your support today. Help me win this seat for the atheists in my district, in Texas, and around the country, while defeating a Tea Party radical in the process. Whether or not you live in my district or even in the state of Texas, I am your candidate. I am your representative.
Donate to my campaign. If you live in the Dallas-Fort Worth area, volunteer and help us knock on doors and call voters.
If we win, and we can win with your support, we can prove to the world that atheists deserve to be in politics, that atheists belong in politics and that we're tired of being left out of the party.