Michaelyn saw a post by one of her facebook friends that made her almost vomit.  She sent it to me and I post it here because it's not the only one like it I've seen, not by a long shot: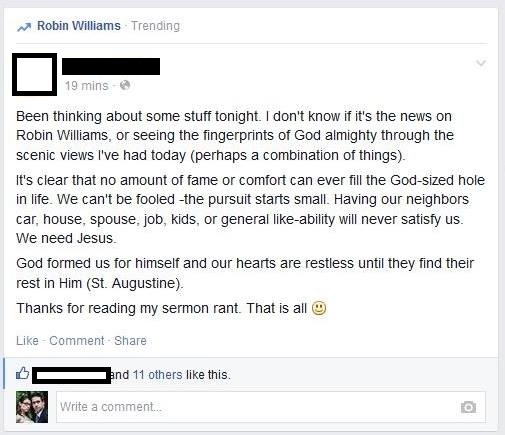 That is all…smiley face.  And other Christians rush in to like it.
Who knew that Christians never commit suicide?  Oh wait, they do.  Your faith isn't medicine for the mentally ill, it's a shitty idea about a guy rising from the dead.  Learn the difference.
And he had this inane thought while seeing god's fingerprints in the countryside?  How quaint.  While the beauty of nature generates compassion in some, in people like this it apparently gives birth to the need to capitalize on a tragedy to evangelize.  Robin Williams didn't have a psychological problem according to this person, he just didn't have enough Jesus, because people who have Jesus are all happy and never commit suicide, and you want to be happy, right?  Gag me.
If you want to see god's handiwork, try walking through a hospital.  You can see god's handiwork just beyond the human beings who trained for years and who work 12-hour shifts to counteract it.  Or better yet, spend some time in a psychiatric hospital.  You'll find plenty of Christians inside all praying by the day, by the hour, by the minute for god to save them – and yet it is only ever the doctors who try.  In any remotely reasonable person this should confirm that mental illness is not the product of thinking your religious ideas are bullshit.
What's more, if god really did create everything in our universe (if he didn't, why do we need god to have created anything?), then he created mental illness.  He created brains that break on account of genetics and other stimuli in everybody, whether they're wealthy, faithful, or what have you.  If god exists, you didn't see the need for Jesus in Robin Williams' depression that ultimately ended his life, you saw god's design – and I'll bet you still think it's perfect.
Self-importance and license to be an emotional predator all dressed up as care (because if you'd just believe what he does, everything would be ok).  It's disgusting and is one of the first things I'll cite the next time someone tells me that Christianity makes people better.