In Everett Pennsylvania a 14 year-old boy has been arrested for taking and posting this picture on facebook: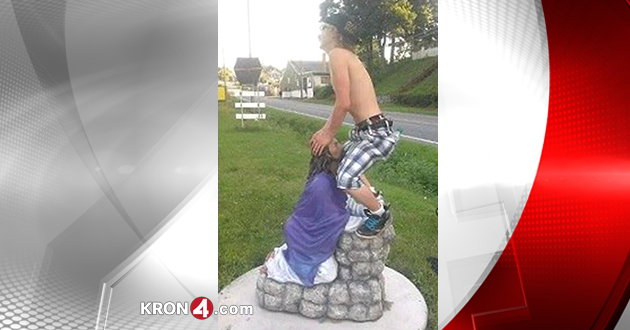 Is it tasteless? Very. Is it trespassing? Possibly. Hemant even called the kid an idiot, but I don't know if I'd go that far. He did something idiotic, but hell, so did I at 14 years-old. It didn't mean I was an idiot, it meant I was young and unwise. The kid will likely grow out of it.
But what kills me is that the kid might get 2 years in a juvenile jail for this.
The criminal charge, which will be heard in family court, consists of "Desecration of a Venerated Object."

Pennsylvania law defines desecration as "Defacing, damaging, polluting or otherwise, physically mistreating in a way that the actor knows will outrage the sensibilities of persons likely to observe or discover the action."

The teen, whose name has not been released, could face up to two years in a juvenile jail if convicted.
You have got to be shitting me.
I looked up the penalties for vandalism in Pennsylvania.
3rd Degree Misdemeanor Criminal Mischief

Criminal mischief is charged as a 3rd degree misdemeanor if the damage caused by the act is valued at more than $500 or if the act is done by graffiti and the value of damage is greater than $150.

3rd degree misdemeanors carry a potential penalty of up to 1 year in jail.
So let's say an adult (subject to harsher penalties than minors) elected to spray paint "Jesus loves dicks" on the side of this boy's school. That guy, at most (and the "at most" comes in to play for people with previous criminal records, which this boy doesn't have), would serve a year in jail – and that's assuming the cost of having the wall re-painted exceeds $150, otherwise the penalty would be less.
But a 14 year-old does something stupid that causes literally zero property damage and he could face two years in juvenile jail because it's a "venerated object"? That's insane. That's really ludicrous.
If he had spray-painted the statue, I'd be all for charging him. If he had done any damage, he should be punished in accordance with the damage done. Hell, I even think a slap on the wrist for trespassing could be appropriate. But fucking with a kid's life for being immature at an age when pretty much everybody is immature is petty, vindictive bullshit. This law about venerated objects needs to be challenged and unmade, and I hope this case can be a vehicle for that.
I imagine most Christians at that church shudder at the idea of Sharia law, which is pretty much defined by its harsher laws for so much as offending Islam. And yet, look at the laws we have in some places right here in America. This is very, very sad.