Helen Stringer is an up-and-comer who you will hear more of in the next few years, mark my words. She is the founder and leader of Kansas City Oasis, a group for which I have spoken and attended again this last weekend. Because she is so quickly becoming a go-to voice for atheist community building that she got swiped up as a speaker for this year's Apostacon.
She contacted me the other day about writing a guest post about the identity of Oasis (a movement I fully support). Enjoy!
---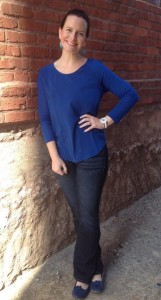 Community – Religion = Oasis
Seems simple enough. Take all the great community building blocks of religious communities, remove the dogma and spiritualism, add a touch of science, a heap of equality, a cup of compassion, and presto, you have Oasis—a place for those who don't fit in church. No magic, just reality.
My Oasis story starts over a year ago. I was tired of not having a community because I wasn't in church, and I was ready to do something about it. My first step was to make sure no one had already invented the wheel, so I contacted multiple leaders in the secular movement, but when I got in touch with founder and executive director of Houston Oasis, Mike Aus, something sparked.
In our first conversation we spent well over an hour talking about the kind of community I had envisioned, which happened to be the kind of community Mike was leading in Houston. After hours of additional phone calls on how to start and operate this community—because initially Mike was just giving me much needed advice on how do it on our own—it dawned on me. Why not team up with Houston? Why not connect to a thriving organization and establish an even larger support network?
When I asked Mike if this was a possibility, he responded without hesitation, they would welcome another community sharing their model. I was elated but not naïve about the work ahead of me. I still had to get the rest of my team on board, and being the talented and intelligent individuals they are, they had a lot of questions and concerns.
Eventually, with the support of the Kansas City Atheist Coalition (a 501-c3), we put together a planning team and chose April 6, 2014 as our launch date. Kansas City Oasis kicked off with a jolt, and has kind of taken on a life all on its own. Since April, we have met so many new people and created a thriving community of like-minded and passionate individuals.
Now, what I hadn't expected was how much attention Houston and Kansas City Oasis would get. In late July, Time magazine published a two-page article featuring Houston Oasis, calling them "the model" for secular communities nationwide. In addition to local media and secular conference speaking opportunities, the Oasis concept began to spread, and as a result, Mike and I started receiving inquiries, nationwide and even internationally, about the possibility of starting an Oasis in other cities.
With so much interest, and having successfully launched in Kansas City, we began to entertain the possibility that other cities could form their own Oasis. So out of necessity and a passion for a greater community network, we founded The Oasis Network. The mission of this network is help other cities form their own Oasis communities by providing support, a working model, resources, and a greater community at large.
We are now ridiculously thrilled to share that our third Oasis community will launch in Dallas/Fort Worth in March 2015! In addition, we are working with 5 other cities in the beginning stages of forming their Oasis communities.
The Oasis Network was created to help you launch your own secular community. They call us the "Nones" because we don't fit in faith-based communities, but we are not none, we are many, and we deserve to be counted. Don't just be secular, join the secular revolution and be the difference in your city.
Visit USOasis.org for more information.