The run-off race for Austin City Council District 4 is probably not something most people, especially outside of Austin, will pay much attention to, including myself.
The race is between Laura Pressley and Gregorio Casar. Casar led Pressley with an impressive 39-22 lead in the November 4th election, commencing the run-off that is set to take place December 16th.
The noteworthy part is how one candidate desperately attacked their opponent.
In a flyer being distributed by Laura Pressley, who has some…questionable beliefs about 9/11 and fluoride in the water to say the least, the claim is made that Gregorio Casar is a "self admitted atheist."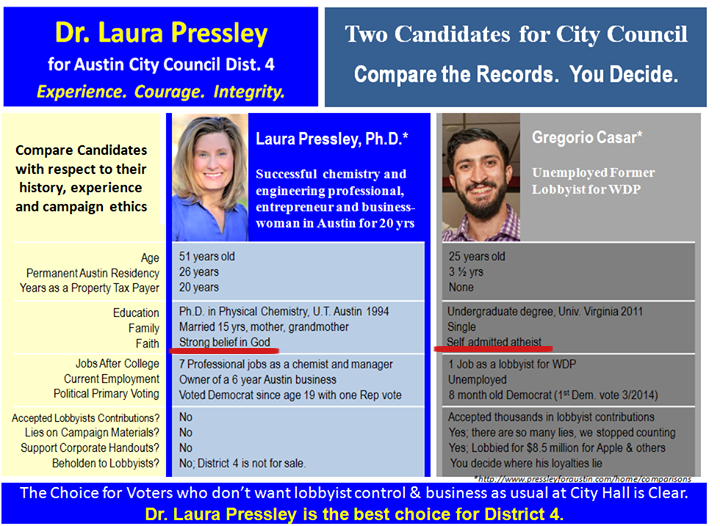 According to Pressley's website, this claim is based off of a college essay supposedly written by Casar when he was an undergrad at the University of Virginia:
Direct quotes from Casar are, "Embarrassed by my godlessness…," and "I don't believe that there is a heaven or hell beyond this earth…," and "…the God I no longer believed in."
When asked by the Austin Chronicle, Casar responded, "I consider myself…Catholic."
But even if Casar was an atheist, which he very well still could be. So what?
What does religious belief have to do with what elected officials do?
Here's a draft of what the Austin City Council is addressing at their next meeting:
City Council released the draft agenda for its last meeting before 10-1 takes over. So far, Council plans to take up rainbow crosswalks, and revisit Springdale Farm and the Decker Lake golf course proposal, among many, many other things (currently there are 182 items listed) We'll have more on the Dec. 11 meeting in our upcoming issue's Council preview.
Does anyone see where the religious beliefs of a city council member will ever come into play over these issues? I don't, but I'm just another "self admitted atheist" who also ran for the Texas legislature, so what do I know about politics and governance?
On Pressley's Facebook page, some of her supporters had basically the same reaction.
This one is personally my favorite.

Some were more than willing to continue to show their support for Pressley, especially because of her attacks on Casar's religious beliefs.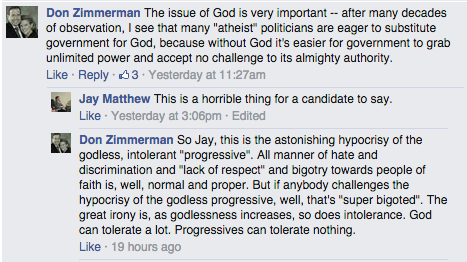 "as godlessness increases, so does intolerance." Huh?
"I see that many 'atheist' politicians are eager to substitute government for God." What?!
Nevermind.
Neither candidate could be reached in time for comment.
However, Casar also told the Austin Chronicle (emphasis mine), "I think most folks are generally shocked to see any political attack over religious beliefs … unlike my opponent I think it's inappropriate to suggest that my beliefs are a qualification for City Council. I expect District 4's voters to reject this desperate attack resoundingly."
Well said. In that case, I fully recommend anyone who lives in District 4 of Austin to vote for Gregorio Casar. Early voting started December 1st and goes through December 12th. Election day is December 16th.
You can find out more about Gregorio on his website.
UPDATE: New piece with Gregorio Casar's comments can be found here.