Muslim protesters are demanding a teacher in Washington state be fired after showing some of the cartoons featuring Mohammad to a class in a discussion of current events:
A group of Somali Americans gathered outside the Refugee Women's Alliance(ReWA) on Martin Luther King, Jr. Way to demand the resignation of a teacher who showed the cartoons to her teenage students on the day after the Charlie Hebdo attacks in Paris.

"We're not gonna be silent when it's something that's not right," said Hassan Aden, who was one of between 15 to 20 people who attended the protest. "We're trying to show that we're not happy with what she did."

The teacher, Deepa Bhandaru, recently earned her Ph.D from the UW Political Science department, and works for ReWA teaching a free class on world affairs for youth, where she showed the cartoons during a lesson on free speech and religious pluralism.
She's a teacher teaching her students about current events. It's her job to make sure her students are well-informed, not to comport herself to your whacky religious mores. She was doing her job.
And this protest sign is the stupidest thing I've ever seen: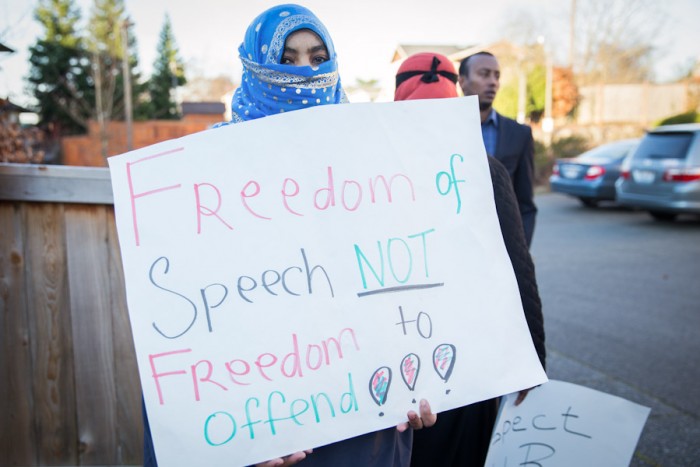 The two are inseparably linked. The sole reason freedom of speech exists is to protect speech that may offend people. Nobody needs protection for inoffensive speech. If you're so opposed to the freedom to offend, your protest offends me. You'll be heading home now right? Right?
You may not like those cartoons. Several people may not like them. But that's no reason to shield them from the world – it's a reason to talk about them open and honestly, which is what a good educator should be nudging her students to do. If this teacher loses her job then there's something really wrong with this country. It's a pity people like these protesters are making it so that good teaching requires bravery.