Today Indiana Governor Mike Pence signed a bill that will allow business owners to discriminate against their LGBT customers. He says the bill does not allow that, which is completely wrong. In fact, it's precisely what the bill was designed to do:
"This bill is not about discrimination," he said, "and if I thought it legalized discrimination in any way in Indiana, I would have vetoed it. In fact, it does not even apply to disputes between private parties unless government action is involved. For more than twenty years, the federal Religious Freedom Restoration Act has never undermined our nation's anti-discrimination laws, and it will not in Indiana."

Pence's claim is misleading, however, given the bill was written differently from other RFRAs in a way that seems designed to enable discrimination. The bill specifically statesthat individuals who feel their religion has been burdened can find legal protection in the bill "regardless of whether the state or any other governmental entity is a party to the proceeding." In fact, it is this very exception that makes Indiana's RFRA, along with those newly proposed in several other states, a significant concern for the LGBT community.
The state is already looking at losing Gen Con, a gaming convention held annually in Indianapolis which brings about $50 million into the state. This prompted Indianapolis mayor Greg Ballard to say, "I don't believe this legislation truly represents our state or our capital city. Indianapolis strives to be a welcoming place that attracts businesses, conventions, visitors and residents."
On top of that, immediately after the bill was signed, Marc Benioff made this tweet: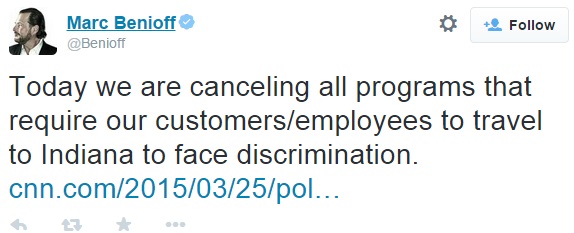 Benioff added on facebook:
We are forced to dramatically reduce our investment in Indiana based on our employee's & customer's outrage over the Religious Freedom Bill.
Benioff and several other tech CEOs sent a letter to Gov. Pence, part of which read:
We firmly believe in the separation of church and state as provisioned in the First Amendment to the Constitution of the United States. The RFRA clearly blurs that line and opens the door to blatant discrimination. As leaders of technology companies, we not only disagree with this legislation on a personal level, but the RFRA will adversely impact our ability to recruit and retain the best and the brightest talent in the technology sector. Technology professionals are by their nature very progressive, and backward-looking legislation such as the RFRA will make the state of Indiana a less appealing place to live and work.
So you can bet that Benioff won't be the last to withdraw from Indiana. What is it the bible says? Ah yes: we reap what we sow. I've driven through Indiana. Even the streets in some places seem to be accumulating rust. This is not a state that can afford much lost revenue.
We heard it from the GOP during their campaigns: we have to cut taxes for the wealthy because it will cause job creators to come to America. That was the rubric by which we were supposed to judge legislation: by how appealing it was to job creators (and yet Obama's policies have produced 50+ weeks of continuous job growth without shifting the tax burden even further onto the middle class). Well, here we have an example of legislation that is causing job creators to pick up their tents and move elsewhere. And yet, I suspect the people who voted for Pence won't bat an eyelash. Is there any more indication you need that these people will tank the economy or the country to see their religion enshrined as law?