One year ago, almost to the day, we launched Kansas City Oasis out of the Kansas City Atheist Coalition (KCAC). It was the culmination of six months of intense planning, coaching from Mike Aus of Houston Oasis, fund-raising, blood, sweat, tears, elbow grease, fast food, and late night meetings. It was worth it. All of it was worth it. We discovered this on the first day and it has been reinforced every week since then, all 52 of them.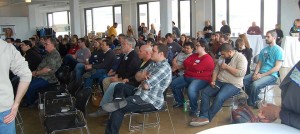 I became the Director of Community for KCAC in October of 2013 because I wanted to make a difference in the secular community in Kansas City. I wanted to see individuals and families connected to one another. I wanted to see the secular community actually become a community…and that is exactly what we have accomplished.
We are averaging 150-200 people every week at our Sunday Gatherings, we've outgrown 2 event spaces, and are currently meeting in the gymnasium of community center.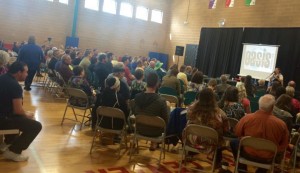 Our kids program is packed like the pockets on Bill Gates pants, with 20-30 kids (ages between 0-12) attending each week.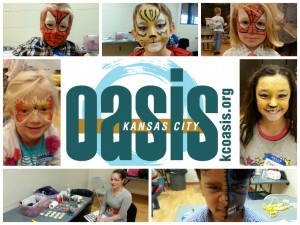 In addition to our Sunday gatherings, there are social and volunteer events scheduled constantly throughout each month, these help connect people on a more personal level.
The impact Oasis has had on the community has been profound, and I hear about this almost every week. I could post quote after quote but the best thing to do is to take 6 mins and watch this video, where you'll get a glimpse of what goes on week to week at KC Oasis:
While our numbers feel impressive, and I'm loving everything that we've been able to accomplish, I know that in a city the size of Kansas City (approximately 2.4 million), we are not reaching everyone. There are thousands of people in our city that don't fit in faith-based communities, people that fall into the "none" category, or are atheists, or agnostic, or secular, etc. These people haven't found us, and that's a problem—a problem we are working to solve. There are only a handful of secular communities like ours in the nation, which is something I'm trying to change with the Oasis Network that we launched last fall.
I'm as driven now as I was on day one. I've seen real lives changed because of Oasis—because of human connection—and this has only fueled my passion. We belong to a growing and diverse group of people, and our social circles shouldn't be limited because of our lack of religious affiliation. My social circle has not only grown in numbers but also in richness; we have made real life-long connections and friends because of Oasis. If you're reading this and are a part of Kansas City or Houston Oasis I encourage you to share in the comments what this community means to you.