Blogging isn't just about sending ideas into cyberspace. It's about sharing ideas and thoughts that foster changes or actions that can make the world a better place. Last year, one post did just that.
Last October, Michaelyn Eberhart, J.T.'s Eberhard's wife, asked people to donate to SOMA or Kansas City Oasis for her birthday. Who knew that this request would lay the groundwork for an Oasis in Boston?
J. Michael Spencer (aka Spence) of Boston, Massachusetts saw this request, made a donation to Kansas City Oasis and then left this comment on J.T.'s Facebook thread:
"I wish we had something like that here."
Michaelyn, being the forward thinker that she is, connected Spence to me, and after several phone and Skype conversations, Spence enthusiastically decided to pursue starting an Oasis in his hometown of Boston.
Spence has spent the last 7 months putting together a launch team and building the foundation for Greater Boston Oasis. We're thrilled to be sharing that he launched his indiegogo campaign on Saturday and hopes to raise some initial funds to get this community off the ground in Fall 2015.
If you want to see secularism continue to move out of the shadows, consider making a donation to that effort in Boston. <Donate here>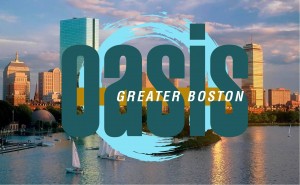 If you too want an Oasis in your city, let us know! We are currently working with a couple other cities and look forward to announcing them in the near future.
It's amazing how one blog can help build a tangible community. A word of thanks to Michaelyn for supporting Oasis and to J.T. for letting us contribute to his blog as a voice for secular community and life. Real lives will be changed due to the generosity of two humble and passionate individuals. Thank you Michaelyn and J.T., you're both heroes.