Forget all the analysis of last night's who can platitude hardest contest Republican debate. Today Donald Trump's campaign put out a press release identifying the winner of the debate. Would you believe it was Donald Trump?
Donald J. Trump was the unequivocal winner of tonight's first Republican Primary debate hosted by FOX News. Mr. Trump, the definitive first place candidate in all recent national and state polls, proved himself to be a skillful debater, out performing his rivals with decisive responses and swift counter-attacks. Mr. Trump excelled in what was his first ever debate against a group of all talk, no action politicians.

Mr. Trump stated, "I am very proud of my great performance tonight. I am not a debater, but I am a winner. If I am elected I will make this country a total winner — I will Make America Great Again."
That collection of words was about as substantive as any of Trump's "answers" last night. Since Ed Brayton just joined Patheos, I'll go ahead and quote him:
I think it goes without saying that Donald Trump just gave the strongest, greatest. classiest performance of any candidate in the history of the world. To celebrate, he's going to have his third wife stuffed and gold-plated and go find a younger model to replace her.
Ed actually wrote that last night, before Trump issued his press release saying essentially the same thing. Can Ed call 'em or what?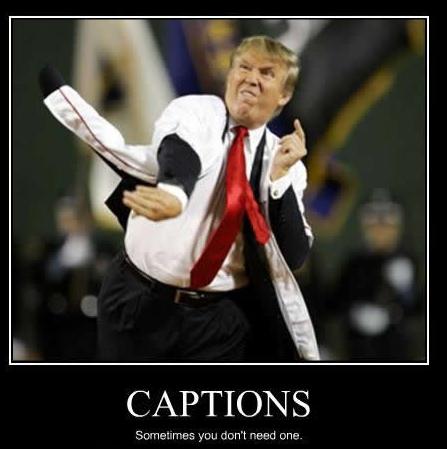 Decisive victories like this are just another reason that I am totally supporting Trump in 2016. And after he wins the primary, how about Trump/Palin 2016 in the general election? #VoteTheDream After all, Palin has been giving Trump all the love lately:
"Donald Trump is the art of the deal in so many respects, he wrote that book called 'The Art of the Deal,' but he literally knows the art of the deal and here in America we are losing deals left and right," Palin said. "We've lost our industrial base, we're losing our friends and allies, we're losing obviously respect around the globe, we're losing morale in the United States military with the troops whom we so respect and love and we want them to be able to respect and love their commander in chief and organization and all of these things that we're losing deals on. Donald Trump is one who is saying, here's how you fix the problem, here's how you seal the deal to win."
Because if there's anybody who knows a thing or two about acquiring respect, it's Sarah Palin. She's not just the VP running mate Trump needs, she's the one he deserves. #Trump2016 #VoteTheDream