It turns out Kim Davis, self-appointed arbiter of who should get to be married in Rowan County, KY, doesn't exactly have the best resume for the job:
[Kim Davis] gave birth to twins five months after divorcing her first husband. They were fathered by her third husband but adopted by her second. Davis worked at the clerk's office at the time of each divorce and has since remarried.

Davis has described her desire to strictly adhere to the Bible in stark terms and thus far has shown no sign of bending to court orders on same-sex marriage. She said Tuesday she fears going to hell for violating "a central teaching" of the Bible if she complies with the orders.
Ahem, biblically-speaking, the term "harlot" comes to mind.  😛
So here's where we stand: a woman who has had four husbands won't let other people have one.  A woman who has been divorced three times, who cheated on her first husband with her third husband but allowed her second husband to adopt the third husband's kids, feels she has the authority to tell a bunch of faithful, monogamous couples that their commitment is an affront to, presumably, all four of her marriages.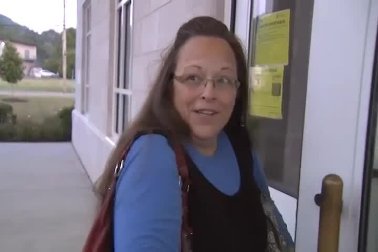 So adultery?  Cool!  The bible probably doesn't have anything to say about that.  Divorce?  Cool!  The bible probably doesn't have anything to say about that.  Oh, gay people?  Yeah, the bible doesn't say anything about not letting you marry, but it does say to kill you.  I'm not going to do that, but I am going to stop you from marrying because of the bible.
Welcome to conservative Christianity: we've probably never read the bible or the Constitution, but we're pretty sure they both say whatever we want and you're not a patriot if you say otherwise.
What a hypocrite.  I can't wait for tomorrow morning.