Yesterday I wrote a post about how Kim Davis' track record of marriage includes some adultery and more.  If you want the short version, here it is: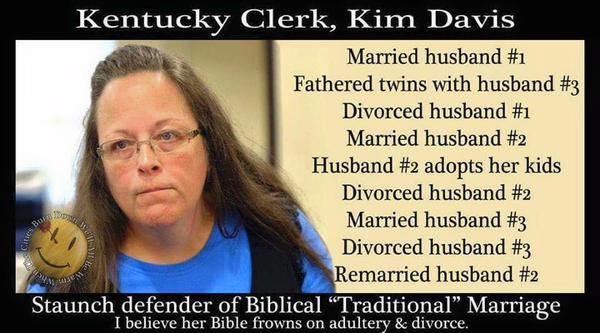 Just like this meme, my intent was to highlight her hypocrisy.  Sarah Morehead (and at least one other person on twitter) didn't take it that way though:
<3 @jteberhard dearly but disagree w/this. Shaming #KimDavis implies she'd be less wrong if her story were different https://t.co/7N4iqB1Wgm

— Sarah Morehead (@morehead_sarah) September 2, 2015
Now, to be clear, there are certain corners of the atheist blogosphere where you get accused of sexism/slut-shaming for sneezing sideways.  Not that sexism doesn't exist, but I don't tend to pay any attention to those people, because when you accuse pretty much everybody of being a misogynist it kinda loses its punch.
But Sarah Morehead is not one of those people, and I really respect her.  Sarah doesn't say stuff like this on the regular, so I reckon'd I ought to clear it up.
First, I'm definitely not slut-shaming Kim.  Hell, I'm part of a polyamorous marriage and have been pretty open about my sex life.  I think promiscuity is grand.  I think cheating sucks, but I think promiscuity is grand.  That distinction can be drawn because I think lying to a loved one is pretty shitty, even if I think sleeping with a ton of people, if that's how you roll, is pretty cool.  It turns out you can think cheating on a spouse is bad while thinking sex with whomever you want is awesome.
But I guess I am shaming Kim, but it's for her hypocrisy.  As Sarah pointed out though, she claims to have only surrendered to Jesus four years ago.  I'm not sure how much I buy this, but even taking her at her word the bible says in multiple places that divorced women don't get to remarry (here's the first NT example that came to mind).  Even if she wasn't a Christian in previous marriages (which is questionable), her bible says way more about Kim Davis' fourth marriage not counting than any marriage between same-sex couples.  And yet she surely thinks her current marriage is valid and issued herself a marriage license.  This is one hypocrisy among many and, yeah, admittedly, I think she should feel some shame for it.
Now, I don't go around busting on everybody who cheats on a partner or every owner of some form of hypocrisy.  I'm sure I have some to which I'm blind.  I suspect we all do.  But then again, I don't go around trying to dictate other people's love lives.  If you want to insert yourself into the relationships of others then you open the door to others getting a shot at yours.
However, I should also point out that none of this is relevant to the case.  Kim Davis could be an otherwise awesome person, faithful to one husband her entire life and tithing 10% of her income every Sunday and the soundness of her case (or lack thereof) would not change in the slightest.  I don't point out her hypocrisy because it changes the case, I do it to point out that she's a hypocrite which, to my eye, gives her even less ethical right to be lecturing others about marital immorality – even if that doesn't affect the legal case against her.
So there you have it.  Surprise, I agree with Sarah: Kim Davis being a shitty or wonderful person (but really, she's pretty shitty) doesn't alter her case at all.  Pointing out how she allows herself biblical violations in the context of marriage but wants to punish others just reveals she's a hypocrite, not a law-breaker.  We agree there, and if I gave a different impression then mea culpa.
But we disagreed on the internet (over twitter, even) which means there's nothing left but for us to go to war.  I will not rest until the whole internet knows what a horrible person Sarah is.  Raaaaaaaaaawr!
Seriously though, I wish all people could argue on the internet like Sarah Morehead.  Disagreements happen, often between good people.  It's good to be able to talk to one another without setting ourselves to painting people who are on our side on virtually every issue and have been for years as the enemy of all that's decent.  This is why I (secretly) still love Sarah (my sworn enemy) and respect her: she disagreed with a friend assuming I'm a good person and that I'd want to hear her take.  I think we just kind of talked past each other on stuff we agree with here, but next time my mind might be changed.  Or hers.  Who knows?  But at least this approach gives us the chance to find out without us resenting each other or preventing us from working together in the future.  This is how you work with others while trying to change the minds of your allies.  I wish everybody understood that.  I'm glad Sarah does.