In 2014 I spent a whole day in November streaming games for a gaming fundraiser called Extra Life.  Together we sent more than $1,300 toward paying the medical bills of children from impoverished families.  Hell yeah.
So why not do it again this year?  And why not bring friends?  The group Atheist Gamers, a group started by myself and the hosts of the Game Theory Podcast, is assembling a team.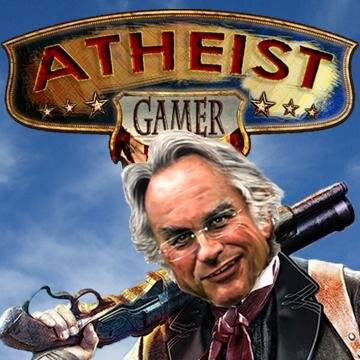 If you want to be a part of it all you have to do is have some free time on Nov. 7th and be willing to play games and ask for donations.  If you need streaming software installed I (and many others) would be eager to help.
Here's our Extra Life page.  Sign up if you want to play that day.  I'll be putting a schedule together and will be promoting everybody who plays.
This year Atheist Gamers is going to raise $5,000 for Extra Life.  Yeah, that sounds like a lot of money – that's exactly why we're going to do it.  I know you want to help, so here's how you can:

1.  Donate.  Obviously, this is what we need.  You can do it now and/or do it on Nov. 7th (the Atheist Gamer team will surely be doing individual fundraisers like a dollar for every level they can beat on Contra without continuing, etc.).  Don't feel bad if you can't donate a lot.  Most of us are scraping by too, but even a donation of $5 helps.  A thousand people all donating $5 gets us to our goal just as surely as one person tossing in $5,000.

2.  Share.  Ok, so you can't even donate $5 (hey, we've all been there).  Share our efforts on your facebook, twitter, hang a sign around your puppy's neck while you take it for a walk, whatever.  There are other people out there who want to help sick kids who can donate – you can help us find them.
And we've already got a head start: Todd Stiefel has given us a $1,000 matching offer (WE'VE ALREADY MET THE MATCH!).  That means for every dollar donated up to $1,000 it will count twice thanks to Todd's generosity.  I know Todd's a gamer but he won't be able to join us on Nov. 7th.  We're grateful he's still participating with this offer.
I could not be more excited about this, and will keep you all up to date as we move toward Nov. 7th (I've even secured a gaming contributor to the blog who will be announced soon, but she will be happy to answer any questions you might have).
In the comments leave suggestions for games you want played.  One the table for me right now is Counterstrike: Global Offensive, H1Z1, Hearthstone (may wind up coordinating a Hearthstone tournament among Atheist Gamers), Heroes of the Storm, League of Legends, Sentinels of the Multiverse, and various retro games.