In collaboration with the It Gets Better Project Frito-Lay released limited edition bags of rainbow Doritos. Donate $10 or more to IGBP and you get mailed a bag (sadly, they're all out now):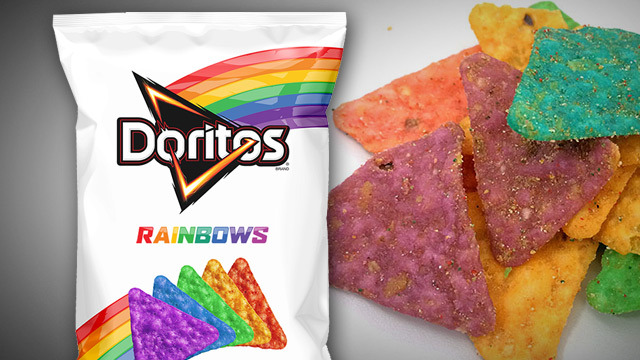 I'm not into Doritos, but I thought it was a pretty cool gesture. You know who didn't think it was very cool? Mike Huckabee (plot twist!). He's launching a boycott against Frito-Lay:
Even if the the chips are out of stock, the fury of former Arkansas Governor Mike Huckabee and his allies has not faded. To them, Rainbow Doritos are just the latest example of corporate pandering to a gay-friendly agenda. In a letter to Frito-Lay management, Huckabee urged them to sever ties with the It Gets Better Project because he said its creator, sex columnist Dan Savage, has a history of anti-Christian comments. Huckabee wrote that "it is beyond me to understand how a responsible corporation would think that partnering with someone who spews the vicious vitriol that Savage does would be worthy of your corporate contributions," according to a copy of the letter obtained by the blog WND. Huckabee declined to be interviewed for this article.

"It's a war of ideology," says David Lane, head of the American Renewal Project, a group that politically mobilizes evangelical pastors, who is supporting Huckabee's effort. "Frito-Lay has stepped into a cultural war." For years, Huckabee has been a regular speaker at Lane events, and a host of overseas trips for pastors organized by Lane.

Frito-Lay maintains the partnership is purely to fight bullying, and lamented in a statement that "some have chosen to misrepresent the positive intent behind Doritos Rainbows." But Huckabee and his allies aren't buying it. "This is a battle for the soul of America," Lane continues. "And religious freedom created America."

When it became clear that Frito-Lay would not back down, Huckabee and Lane called on Christians to boycott all snacks made by the company in order to protest the perceived connection to Savage, whom they call an "anti-Christian bully." In a letter to over 100,000 pastors, Lane wrote that "tolerance for Frito-Lay's brazen corporate support of hate speech by Dan Savage— that were it directed toward Muslim's, would warrant a Justice Department investigation and prosecution— is chipping away at the very character and soul of the American experience."
You know, I remember Mike Huckabee coming to the defense of Chik-Fil-A back when they were being boycotted. What did he say back then? Oh yeah! That the boycott amounted to economic terrorism:
Back in 2012, Mike Huckabee came to Chick-fil-A's defense after the restaurant chain faced criticism for its founder's anti-gay statements and for donations the company's foundation had made to anti-gay groups. Huckabee organized a "Chick-fil-A Appreciation Day" in an attempt to block what he described as "economic terrorism" targeting the company. On his Fox News show, he said he would never call for a boycott of Starbucks, Apple or Amazon even though he disagrees with their leaders' politics.
Looks like neither America nor Frito-Lay negotiates with terrorists. Tee hee hee.