Total so far: $3,040/$5,000
---
Atheist Gamers playing right now:
Lux is streaming on her youtube: click here!
Cameron is live now too!  Click here!
The Game Theory Podcast is streaming the worst NES games ever: Click here!
Dawgnose is hitting it too: Click here!
Nathan is streaming now!  Click here!
---
In 2014 I spent a whole day in November streaming games for a gaming fundraiser called Extra Life.  Together we sent more than $1,300 toward paying the medical bills of children from impoverished families.  Hell yeah.
Lora Williams, who is the Extra Life Guild President for the Kansas City area (and who has helped me get Team Atheist off the ground), wrote a guest post for this blog about Extra Life that explained what the fundraiser is and what the money does:
Extra Life is a grass roots experience that mobilizes passionate game lovers to help sick and injured kids treated at their local Children's Miracle Network Hospitals. Since it began in Texas in 2008, Extra Lifers have raised over $14 million for Children Miracle Network Hospitals all over North America. In 2014 alone, gamers raised over $6.1 million. Though "Miracle" is in their name, CMN uses the word in a more scientific manner. It's the miracle of the great care children receive at these hospitals that is celebrated…not the miracle of a deity. In fact, their motto is: "Put Your Money Where the Miracles Are." That money supplies care to children battling debilitating diseases, drives research efforts, and provides funding for medical procedures, family support, and more. No child is turned away from a CMN hospital because their family cannot pay for their care…and that is all from funds raised by gamers like us.
So why not do it again this year?  And why not bring friends?  The group Atheist Gamers, a group started by myself and the hosts of the Game Theory Podcast (here's their Twitch channel), is assembling a team (and the amazing Todd Stiefel even gave us a thousand dollar matching offer which we've already hit, so we're off to a killer start!).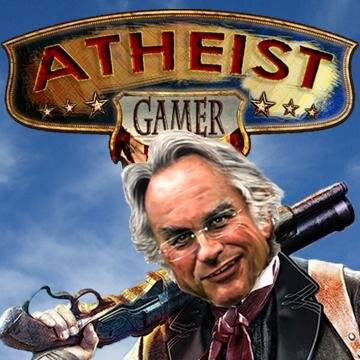 Tomorrow's the day, and we have a hell of a roster of gamers ready to participate.  We'll be playing at various times tomorrow and I will do my damndest to keep my blog updated with which players are currently live.  Michaelyn and I will probably start around 9-10am Central Time tomorrow.
Games will include, as usual, League of Legends, Heroes of the Storm, Surgeon Simulator, Sentinels of the Multiverse, H1Z1, Hearthstone, and retro games from the NES, SNES, and Sega Genesis.  🙂  I know Michaelyn's probably going to stream some Goat Simulator and I know the WWJTD gaming columnist Nicole (her Twitch channel) is going to be playing as well.
Michaelyn (her Twitch channel) has even come up with a list of incentives:
$5: choose my champ or map or join me for a match (all on League)
$10: choose a silly hat for me to wear (I have a long list)
$20: choose my outfit from a list of fun/nerdy costumes
I'll come up with a list of my own before tomorrow.  🙂
IMPORTANT LINKS FOR TOMORROW:
This post: This is where I'll keep and updated list of who's playing.
The Atheist Gamers Extra Life page: Go here to donate to one of our team members!
My Twitch channel: Where you can come keep me company.
WAYS YOU CAN DO TO HELP:
This year Atheist Gamers is going to raise $5,000 for Extra Life.  Yeah, that sounds like a lot of money – that's exactly why we're going to do it.  I know you want to help, so here's how you can:

1.  Donate.  Obviously, this is what we need.  You can do it now and/or do it on Nov. 7th (the Atheist Gamer team will surely be doing individual fundraisers like a dollar for every level they can beat on Contra without continuing, etc.).  Don't feel bad if you can't donate a lot.  Most of us are scraping by too, but even a donation of $5 helps.  A thousand people all donating $5 gets us to our goal just as surely as one person tossing in $5,000.

2.  Share.  Ok, so you can't even donate $5 (hey, we've all been there).  Share our efforts on your facebook, twitter, hang a sign around your puppy's neck while you take it for a walk, whatever.  There are other people out there who want to help sick kids who are in a place to donate – you can help us find them!  (There are all sorts of share buttons at the bottom of this post.  Click them!)
3.  Support.  Some members of our team are going to be playing crazy long hours.  Make some time tomorrow (and gather up some friends) to swing by their channel and keep them company to support them.  Help us keep our energy up!  🙂
See you all tomorrow.