First thing I want to say: Kelly Damerow was tasked with running the Secular Coalition for America after Edwina Rogers was dismissed. It was a tough position to be in and she has done an exceptional job. I've really been impressed with her and she deserves a standing ovation for her efforts.
But she's just been relieved because the SCA has hired a new executive. His name is Larry T. Decker and the first thing people will undoubtedly take note of is that he's a Christian.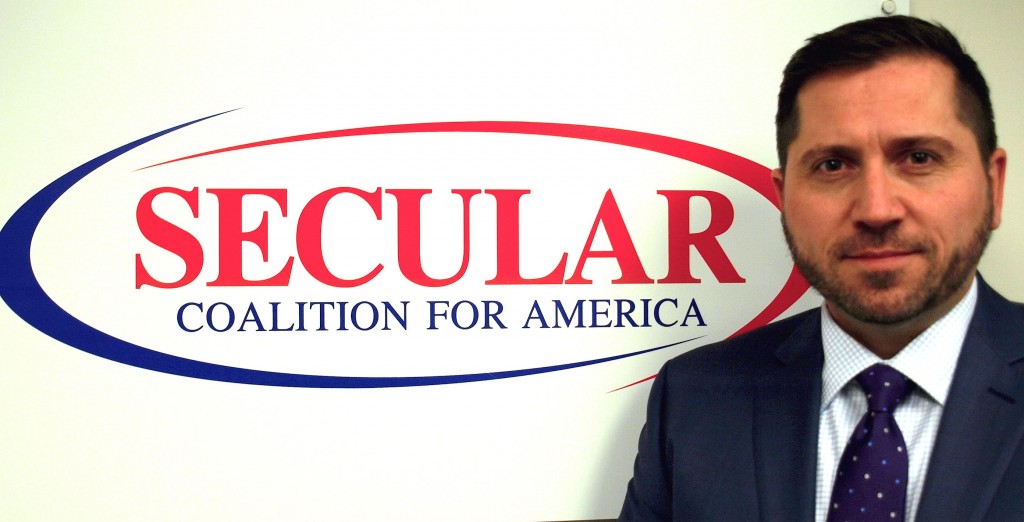 This would get people's attention normally, but even more so now because Edwina Rogers was a Republican with a history of working with (and donating to) highly conservative politicians. Edwina turned out to be pretty unhinged, and so there are plenty of people wondering if Decker will turn out the same way.
But there are some notable differences that should alleviate some of that worry. While Rogers had a history of working with secularism's enemies, Decker has a long past of working with more liberal and charitable groups like the Red Cross. To my eye that puts him more in the Barry Lynn category than Edwina Rogers.
Seriously, Decker's got a pretty long and impressive resume:
Decker served as the Director of Public Policy for Friends of the Global Fight Against AIDS, Tuberculosis and Malaria. During his time at the Global Fund, Decker secured more than $1 billion in federal appropriations for the Global Fund during a period of economic austerity. He successfully executed an outreach and education campaign to meet with all new Republican Members of Congress following the 2010 midterm elections in an effort to ensure an understanding of the devastating consequences of cutting U.S. support to the Global Fund.

Decker spent nearly eight years at the national headquarters of the American Red Cross where he served in two critical leadership roles, first as the Senior Director of Congressional Affairs, where he managed a team of government relations professionals. He then took on the role of Director of Government Operations, where his unit was responsible for all operational relationships between the American Red Cross and Federal government agencies and state and local emergency management agencies.

While at the Red Cross, Decker worked with more than ten Congressional committees with jurisdiction over Red Cross activities, facilitated Red Cross testimony on more than 20 occasions, and secured more than $200 million in direct Federal support for the organization. He also led efforts on major legislative fronts following Hurricane Katrina, including amendments to the Robert T. Stafford Act, which provides authorities for Federal aid in response to Federally declared disasters. Decker also took a lead role in implementing Red Cross governance reforms, including the first major changes to the Red Cross Congressional Charter in over 60 years.

While leading the Congressional Affairs unit, Decker's team led the efforts for approval of amendments to the Geneva Conventions and ratification of the Third Additional Protocol, which allowed for the admission and recognition of the Israeli National Society, Magen David Adom, and the Palestine Red Crescent Society into the International Red Cross and Red Crescent Movement. During his time at the Red Cross, Decker worked directly with Congressional and Administration leaders to enhance efforts, both legislatively and operationally, between the organization and its major partners on disaster readiness and response. He executed new agreements between the Red Cross and highest-risk state governments to better delineate the roles of the state and the Red Cross during times of disaster as well as pre-position state and Red Cross resources to better respond to disasters.
Not bad. At least it seems he's competent, which I'll take.
Of course, there are some things that still worry me. We keep hiring movement outsiders for jobs like this when I know there are competent, passionate people in the movement vying for them. Why? I can see how Decker's Christianity can immediately invalidate a bunch of lazy arguments against secularism (and how it helps get the SCA into the news). But we don't know this guy, and with all the recent strife at the SCA it will be hard for many to get enthused off the bat.
That being said, the SCA is one of our most important organizations and I truly want it to succeed. Best of luck to Larry Decker! He'll certainly have his chance to make me a believer.