Well, the morning happiness post is going to have to wait. I woke up to see this screenshot in a facebook group I'm in for Arkansas freethinkers: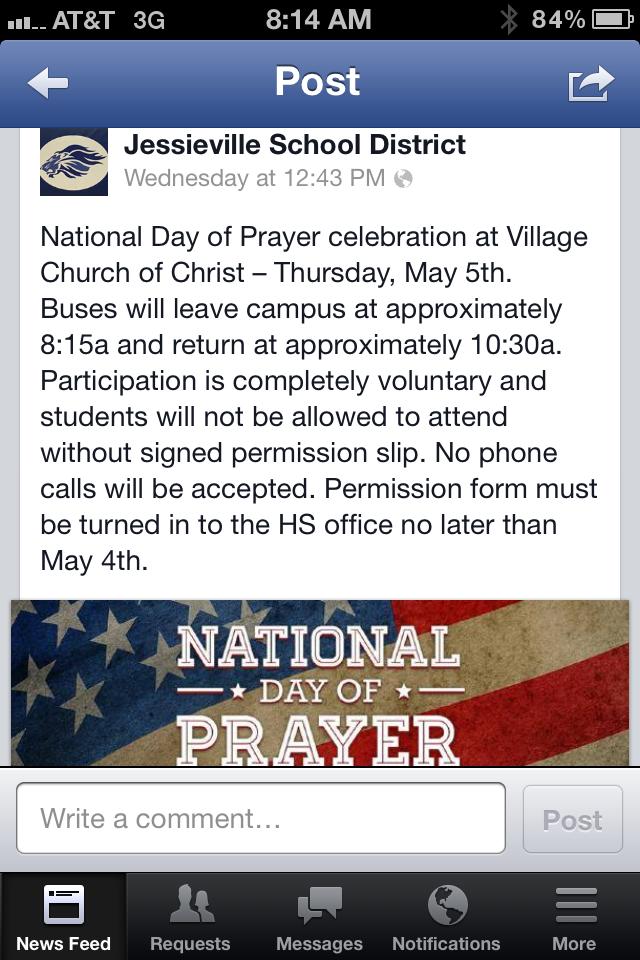 Um, voluntary or not, that's not legal. Like, not even close to legal. I checked the Jessieville School District's page myself and this entry is still there as of this post (as of 10:24am Central Time it has been removed. I've still not heard from the principal or the superintendent in response to my email).
Do any of you have kids in the Jessieville, Arkansas school district? It's possible you may also just need to be a resident and not even need a kid in the district at all, since this is being done with your tax dollars. If so, send me an email at jteberhard@gmail.com. [EDIT: Got this from a legal expert who caveats that it's just off the top of their head: "You're going to have to have someone with standing. Taxpayer standing works on an illegal exaction theory, but that leaves you in state court."]
I sent the following email to the school's superintendent and principal this morning:
Mr. Carter and Mr. Packard,

My name is JT Eberhard and I write a blog for the Patheos network. This morning I saw on your school's facebook page that the school is planning to bus some students to a church during school hours for the explicit purpose of praying (see attached screenshot).

Is this true?
Will post any response I receive. I'm now trotting off to alert the Freedom From Religion Foundation.
---
[UPDATE #1: Good ol' Andrew Seidel.]
And @FFRF is already on it. School being contacted this morning. https://t.co/IhlO1QkMRu

— Andrew Seidel (@AndrewLSeidel) May 4, 2016
The FFRF has sent a letter to the school (which has taken down the facebook post).