Mike Pence attended the Broadway production of Hamilton last night. Tweets I saw throughout last night suggest he was boo'd by the crowd at every opportunity.
Good for them. Although, if you boo'd him and didn't take the time to vote against him, maybe save some of those boos for yourself.
Anyway, at the end of the night the cast and crew came out with a message for the VP-elect (and got the message out before Pence could zip out of the theater):
Tonight, VP-Elect Mike Pence attended #HamiltonBway. After the show, @BrandonVDixon delivered the following statement on behalf of the show. pic.twitter.com/Jsg9Q1pMZs

— Hamilton (@HamiltonMusical) November 19, 2016
You go, guys and gals!
Honestly, I've been on the "give Trump a chance" train, however cynically. Had Hillary gotten elected, I would've wanted (though not expected) Republicans to do the same for her despite their dislike. And I don't consider, "Well, they wouldn't have done the right thing" to be a license for me to do it. I wish to be better than people I don't respect.
Of course, with the appointment of Jeff Sessions for Attorney General, that ship has passed. Here's why:
While serving as a United States prosecutor in Alabama, Mr. Sessions was nominated in 1986 by President Ronald Reagan for a federal judgeship. But his nomination was rejected by the Republican-controlled Senate Judiciary Committee because of racially charged comments and actions. At that time, he was one of two judicial nominees whose selections were halted by the panel in nearly 50 years.

In testimony before the committee, former colleagues said that Mr. Sessions had referred to the N.A.A.C.P., the Southern Christian Leadership Conference and other civil rights groups as "un-American" and "Communist-inspired." An African-American federal prosecutor then, Thomas H. Figures, said Mr. Sessions had referred to him as "boy" and testified that Mr. Sessions said the Ku Klux Klan was fine "until I found out they smoked pot." Mr. Sessions dismissed that remark as a joke.

Mr. Sessions was also accused of speaking disparagingly of the Voting Rights Act and the stringent oversight it placed on Southern states.
Sessions has also criticized the Supreme Court in the past for "having a secular mindset." Yeah, no wonder the diverse cast of Hamilton is anxious. I suspect that behind the propriety they're a damn sight more than anxious.
Anyway, Donald Trump, who has spent a lifetime being, to put it mildly, rude to everybody he dislikes, wasn't pleased with the cast and crew's message: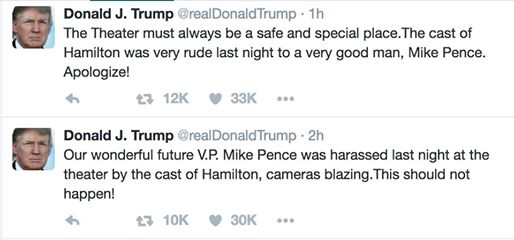 The hell? They were perfectly cordial to Pence, and beyond polite compared to what transpired at all of Trump's rallies and compared to what Trump tweets daily about people he doesn't like.
Don't apologize. You all have freedom of speech and you used it well. In fact, I'd recommend using that freedom a little further to tell this whiny, self-important man-child to grow the fuck up. He's about to have to run the most powerful nation on earth. His skin needs to be, at minimum, thick enough he doesn't throw a tantrum at every piece of polite criticism.
And this goes for people of all political stripes: if you view criticism as harassment, or if you think criticism somehow nullifies safety, you're part of the damn problem.