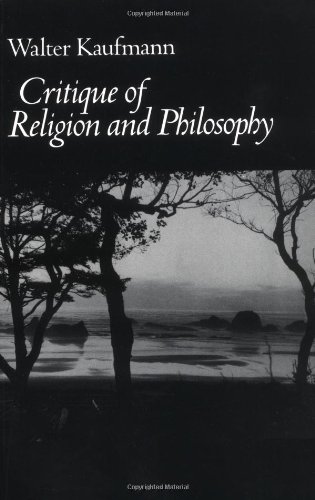 I've been doing a lot of reading these past two and a half months. I've always been a voracious reader and I honestly haven't read nearly as much as I wish I had over the past few weeks, but I'm finding more time for reading and reflection as other areas of my life settle down.
I'm getting ready to start a book I've been looking forward to for quite some time—Critique of Religion & Philosophy, by Walter Kaufmann. Does anyone want to read along? The book is roughly 430 pages long in 11 sections. Each section is between 20 and 60 pages long. If we take a section per week we can get through at a very leisurely pace by the end of May. Who's in?
If you need to buy the book it is available
new
and
used
from a variety of online bookstores. I can't locate a digital version. If someone finds one please post it in the comments below and I'll update the post with the link.
Each Friday, starting this coming Friday, I will post my comments about the section for the week and everyone can chime in with their thoughts.
NOTE: These posts will be designed for those who are actually reading the book with us (or have read it in the past and are familiar with Kaufmann's line of thought). Of course everyone is free to comment but I would be grateful if these threads could be limited to those who are actually reading and digesting the material.
I hope you'll join us.