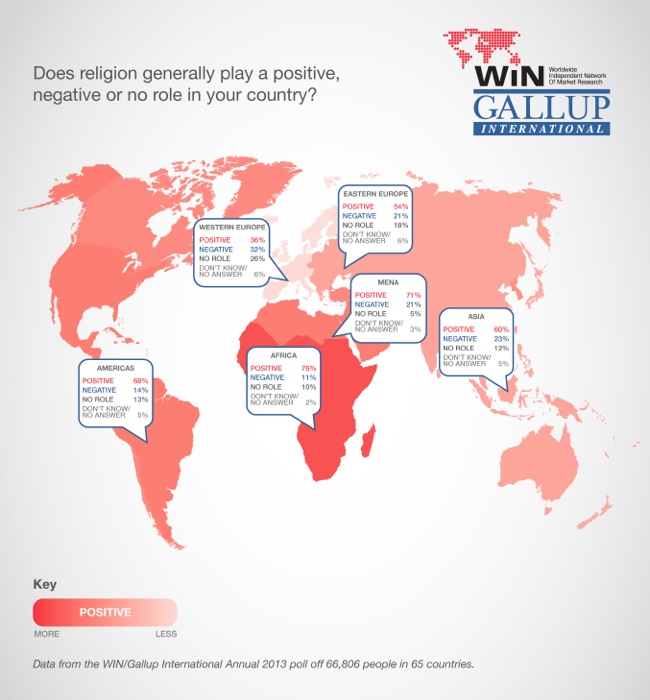 A new poll out today from WIN/Gallup International addresses the question of whether or not religion plays a positive role in society. The results are mixed and tend to confirm what we have generally come to expect.
Overall, 59% of respondents said that religion plays a positive role in society while only 22% say it plays a negative role, for net positive* of 37%. Taken as a whole, the world is still very religious and most see this as a positive thing.
As soon as you drill down a bit deeper, however, fissures begin to emerge. Western Europe, as you might imagine, is the least net positive (4%). Globally, Protestant Christians and Muslims were most net positive about their religion's role in their country (60%) while Hindus were the least net positive (24%). The most interesting results had to do with the role of education, which I'll get to in a moment.
In total there were nine countries whose net scores were negative when asked about religion, with six of those falling within Western Europe (Belgium, Denmark, France, Netherlands, Spain and Sweden). Of these, Denmark was the most net negative at -36%, followed by Belgium (-30%), France (-22%) and Spain (-22%). By contrast, the most net positive country in this region was Iceland (43%) followed by Portugal (39%), which may be due to these countries having one dominant religion. On a global scale, the most net negative country was Lebanon (-43%), which is also the most religiously diverse country in the Middle East.
The G7 countries (Canada, France, Germany, USA, Italy, Japan and UK) range from -22% in France to 43% in the USA. But overall, even among the wealthiest countries in the world, religion enjoys a fairly positive reviews. The UK is the most ambivalent about the role of religion with a net positive score of 6%.
Education plays the most interesting and consistent role in potentially explaining attitudes toward religion. According to WIN/Gallup International:
The data also shows a clear correlation between the level of education people have received and their perceived positivity about the role of religion in their country. The results would suggest that those who have been educated to Masters or PhD level have 20% lower net positivity compared to those who have had less education. The results also showed that net positivity increased gradually to an average of 57% for those who have no education at all.
Indeed, there is a straight line from those with no education down to those with the most.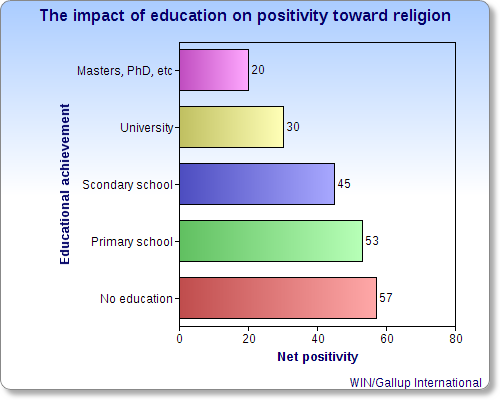 I asked Monte Sahlin, executive secretary of the Interfaith Congregational Studies Partnership and Associate Director of the Institute for Church Ministry at Andrews University, what he thought these results meant.
The fact that more educated respondents are more likely to have a less positive perspective on the influence of religion in their country is not new, although it may be growing and spreading. I think it means that religious leaders in general are not doing what they need to do to come to terms with the views of educated people, even within their faith communities. Religious leaders tend to cater to "the faithful" who are more traditional rather than dialog with those with more education who may be more creative or progressive in their faith. In other words, internal politics probably dictates too much the positions taken by religious leaders. This is unfortunate since in past history there has been a strong alliance between academics and religious leaders. Faith should be a partner with education, not at odds with it.
My own experiences confirm the correlation between education and pessimism about the role of religion in society. I remember in my young adult years some church leaders warning me about going to seminary, where most clergy receive a Masters Degree in theology or divinity, because it would cause me to lose my faith. I have also listened as distraught parents confided in me their devastation over their children's non-involvement in religion, attributing it, at least in part, to their advanced education.
My experience is also that those with the most interesting and helpful forms of religious faith and/or practice are those who have not been fearful of education; who manage to hold their religious beliefs in creative tension with their education in the sciences, philosophy or some other discipline.
It does seem clear, however, that if present trends continue, and if religious leaders are not able to deal with the practical realities of a changing world, both economically and intellectually, that religion as we know it will have less and less influence in society and become increasingly privatized and irrelevant. Many will celebrate this as a great achievement. Where religion intrudes into the public discourse it frequently has an overall negative effect—limiting people's freedom, discriminating against women and sexual minorities, and in some cases inciting violence.
My experience in the United States is of a growing movement of progressive Jews, Christians and Muslims who want to leverage the best aspects of their religion for the overall flourishing of human life in their society. This, in my view, is a welcome trend. Perhaps as religious leaders see the storm approaching, manifested in fewer and fewer adherents and participants in religious services, change will come. Or—and this seems more likely—polarization will increase. Fundamentalists will retrench into their fossilized positions and progressives will attempt to carve out a place for religion and spirituality to have a positive effect on society. All this points to the importance of making quality education available to all children while insisting on secular forms of government.
NOTES
*According to the research report, net score refers to the total percentage of respondents who believe religion plays a positive role in their country minus those who believe it plays a negative one.
Sample Size and Mode of Field Work
A total of 66,806 persons were interviewed globally representing 77% of the global population. In each of the 65 countries a national probability sample of around 1,000 men and women was interviewed either face to face (34 countries), via telephone (10 countries); or online (21 countries). The field work was conducted between October 1st and December 9th 2013. In general, the margin of error for survey of this kind is at the 95% confidence level for 2780 is +/- 1.86%. While for a sample size of 300 it is +/- 5.66%,
The global average has been computed according to the share of the covered adult population of the surveyed countries.
Disclaimer
WIN/Gallup International or its members are not related to Gallup Inc., headquartered in Washington D.C which is no longer a member of WIN/Gallup International Association. WIN/Gallup International Association does not accept responsibility for opinion polling other than its own. We require that our surveys be credited fully as WIN/ Gallup International (not Gallup or Gallup Poll). For further details see website: www.wingia.com