This past weekend I had the privilege of traveling back to North Carolina to attend a lecture series put on by the First Congregational Church in Hendersonville, featuring Gretta Vosper, pastor of West Hill United Church of Canada and author of With or Without God: Why the Way We Live is More Important Than What We Believe and Amen: What Prayer Can Mean in a World Beyond Belief.
I've almost finished With or Without God and I highly recommend it. Both in the book and in her three lectures this weekend, Gretta is arguing for a complete revisioning of the church. Her call is to leave the Bible and theism behind and reorient Christianity around shared values, with or without God. The first sentence of her congregation's Visionworks statement reads:
As individuals from a wide variety of backgrounds and with a diversity of viewpoints, we come together in community, holding in common a reverence for life that moves us to pursue justice, seek truth, live fully, care deeply, and make a difference in the world. While united by life-enhancing values, we are enriched and challenged by our differences in perspectives and beliefs.
It is well worth your time to read the whole document.
A time to die
I suggested to her at one point that she is less like a midwife and more like a hospice care provider for the church. As the writer of Ecclesiasties said,
There is a time for everything,
and a season for every activity under the heavens:
a time to be born and a time to die,
a time to plant and a time to uproot,
a time to kill and a time to heal,
a time to tear down and a time to build" (3:1-3).
Sometimes the church needs help birthing something new, but perhaps now it is time to help it die with dignity. I'm not sure Gretta completely agrees with the metaphor. Indeed, she is also helping to birth something new in the place of the old, but I can't help but think that the church as we know it is in a permanent decline. What takes its place, no one knows, but it just might be something like West Hill United or the many new humanist communities springing up around the world.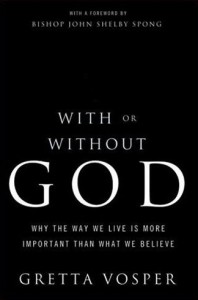 Leaving behind old langauge
One of the most interesting points that Gretta made this weekend is that the liberal, mainline church has a major disconnect (she uses the metaphor of a severed corpus callosum) between it's liberal theology and its traditional liturgical movements and expressions. In spite of the fact that no liberal pastor believes that God is male and lives in "the heavens" the church still recites the Lord's Prayer, "Our Father, who art in heaven…" Why? While the clergy may say these words knowing they are not literally true, their congregants hear them at face value and thus have not internalized the historical and contextual teachings in the weekly message. This disconnect between the church's left and right brain needs to be restored, she says. It's time for the liberal church to stop using words that make no sense.
At West Hill Church they no longer refer to 'God' from the front of the church or use the Bible. For her part, Gretta is an atheist. She told me that she sometimes asks people to complete the sentence, "When I use the word God, what I mean is…." If they don't describe an interventionist, theistic God, she says, "You're an atheist." She's ambivalent about the word. It does carry a negative connotation, but she uses it because she feels its important for people to stop seeing atheists as frightening, evil people. Like many words, we may not need it forever, but for now, it's important for those who describe themselves as atheists to be supported in their decision.
Scholars and church leaders like Marcus Borg and John Shelby Spong have long argued for the redefinition of these words in metaphorical terms, but, she says, this is not helpful. The reluctance to abandon traditional language even when the meaning has been evacuated is due, at least in part, to institutional inertia. It is frightening to take that last step into the void and say, "All indications are that there is no divine being waiting to bail us out, so we had better get busy and create the world we all need and desire."
Is it Christian?
I struggle to see how West Hill can call itself Christian when it no longer takes God and the Bible to be central to the congregation's life and work. In the sense that it has grown up from the Christian tradition it probably feels more Christian than anything else, and many in the congregation have been formed within the Christian narrative. But if the church has left behind the word 'God,' it can't be long before the word 'Christian' is also meaningless. Gretta is walking with this congregation on its own journey and when you're in deep transition, language takes time to shift. "One day it won't be called Christian," she told me. "Eventually we won't need that word anymore."
Gretta is a pastor in the most important sense of the word. She is deeply committed to the formation of an ethical community that together impacts the world with love and justice. The fact that they have moved beyond the tribal nature of Christianity means that there are fewer barriers to people being invited to the kind of life they are cultivating. She sees no reason to make people learn some archaic, "inside baseball" terminology in order to be a part of the community. However, her place in the United Church of Canada is far from secure. She has repeatedly faced threats of a 'heresy trial.' But she's standing in the midst of this storm and helping people move beyond belief and past their doubts to a place of loving, life-affirming community.