I made a note during one of Gretta Vosper lectures last weekend that ended up as a Tweet.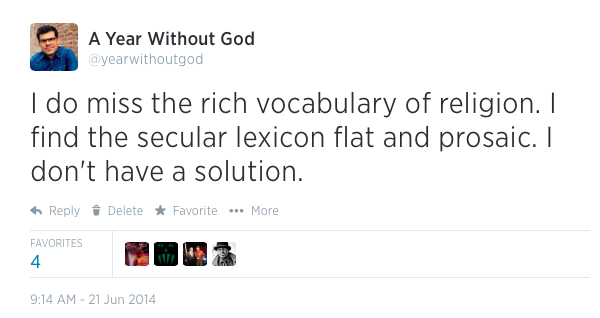 Gretta had said something about using a different word for prayer in her congregation's services. I can't remember right now what they changed it to but I remember feeling two things. First, that the change makes total sense. The word 'prayer' will mislead people and misdirect the purpose of the practice. Second, I felt wistful about the overall loss of language. Religion and spirituality has given us a lexicon for reaching out after life's many mysteries. I wasn't blaming Gretta or her congregation for not coming up with a better word. I can't think of anything better right now either. And part of the loss comes from the fact that any new word won't have the power that comes with historical usage. I suspect that over time we will develop a rich, secular lexicon that expresses the most complex human joy, pain, and longings. I just wanted to name what, for me, is a loss.
Of course, we needn't discard all the old words. The word sacred, to take one example, isn't necessarily limited to definitions related to a god or gods. Most dictionaries include something along the lines of "highly valued and important : deserving great respect." The etymology of the word 'sacred' is a Middle English word sacren, which means 'to consecrate'. We can consecrate, or set apart, many things as special. Another word for this is 'holy.'
Obviously words like grace, peace and mercy still have a great deal of currency outside a religious framework, however not all words are equally transferable. Words like blessing, prayer, sacrament, worship, and even mystery are laden with religious meaning.
The challenge is deeper still. It's not just about the words themselves. The secular discourse (and most religious discourse, honestly) is deeply effected by modernity. As I said in the tweet above, the language of modernity is often prosaic and flat. For someone like myself who has turned to the poetry and prophetic speech of Jesus and the Hebrew prophets as inspiration for a shared life of justice and peace, this loss of poetic language leaves me a bit cold.
Someone responded on Twitter by saying, "Secular language seeks clarity not ambiguity and obfuscation. I say 'I don't believe' and there is little else to say." It's a challenging response that helped clarify what I was thinking. My response to him was, "I'm not talking about obfuscating things. I'm talking about clarity that goes deeper than mere description."
Prose is the language of description and narration, of science and engineering. If a surgeon is preparing to cut into me, I would like her to use the language of precision. It would be deeply disconcerting to hear her bantering with the resident about the meaning of words. When an engineer is designing a bridge, specific, precise language is the only option. But as wonderful as precision is, our entire life cannot be described in the language of technical manuals. Being human is a more beautiful and risky proposition.
Walter Brueggeman speaks to this challenge in his little book, Finally Comes the Poet. Preaching may be one of those religious words that doesn't translate very well, but if you like, substitute 'public speech.'
I
 want
 to 
consider
 preaching 
as
 a 
poetic
 construal 
of
 an
 alternative 
world.
 The 
purpose 
of
 such
 preaching
 is
 to 
cherish 
the
 truth,
 to
 open 
the 
truth
 from
 its 
pervasive
 reductionism 
in 
our
 society,
 to 
break
 the
 fearful 
rationality
 that
 keeps 
the 
news
 from
 being
 new…
 After
 the
 engineers,
 inventors,
 and scientists, 
after
 all 
such 
control
 through 
knowledge, 
'finally
comes
the
poet'.
 The 
poet
 does 
not
 come 
to
 have
 a 
say 
until 
the 
human
 community
 has
 engaged 
in its 
best
 management.
 Then
 perchance
 comes 
the 
power 
of
 poetry
—
shattering,
 evocative
 speech
 that
 breaks 
fixed
 conclusions
 and
 presses
 us always
 toward
 new, 
dangerous,
 imaginative
 possibilities (6).
Poetry speaks to our imaginations and opens the world beyond the limits of our five senses. Not 'imagination' in the sense of children dreaming up monsters who live in the closet, but in the sense of Charles Taylor's 'social imaginary.' Modern secular institutions are just as adept at colonizing our imaginations as are religious institutions. Poetry breaks thru the bondage of idolatry (another religious word that we would do well to repurpose).
There are many rich linguistic resources outside of religion, of course. Literature, poetry and the many arts are continually grappling with these larger issues of human development. I imagine my sense of loss about language is partially due to my newness in the secular world, but I think I'll always be insired by the fiery poetics of Isaiah, Amos, Micah and the subversive storytelling of Jesus.