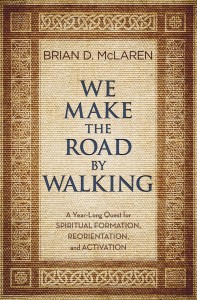 I first met Brian McLaren in the early 2000s as the not retired Emergent Village was getting off the ground. In fact the first time we sat together was at Villanova University where we heard the late Jaques Derrida speak, at the invitation of John Caputo, about St. Augustine and deconstruction. I didn't understand a word he said.
Our friendship continued through the years and Brian's sharp, inquisitive thinking and warm disposition has been a lifeline to me as I tried to make sense of my theological questions. So when I launched out into the unknown on January 1, 2014, Brian was one of the first people I thought of. I felt confident he would understand where I was coming from, but I knew he would also offer valuable feedback.
A few weeks ago Rachel Held Evans hosted an interview with Brian on her blog with questions posed by Rachel's readers. One of friends, Daneen, asked the first question and after reading Brian's response I knew it was time to talk to him. As it happens, his new book, We Make the Road By Walking, just came out so we set up this conversation. I hope you enjoy it. My tech skills are very shaky so I apologize in advance for the quality of the video, but the content, I hope, will be worth it.