Life has been a bit of a blur and my blog has been the biggest casualty. Hopefully there are still a few of you out there! This post is just to give you a few updates on what I'm up to. There are more substantive posts coming, I promise, but I will also be throwing in a shorter reflections as well to keep the content interesting and to start conversation.
Year Without God: the Documentary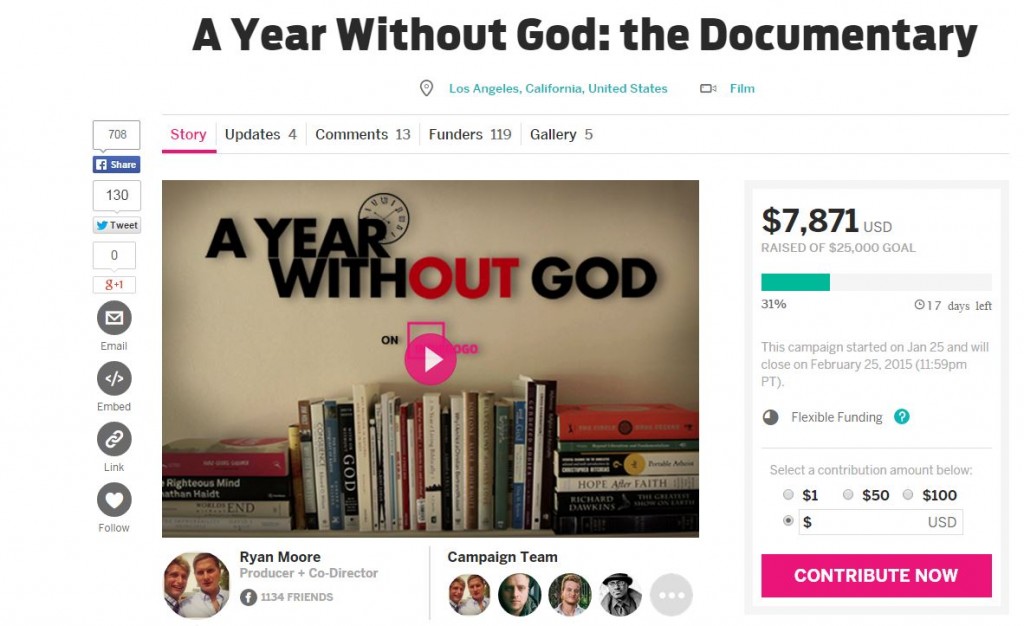 During the past year, Tim Banks and Ryan Moore have been following me around, talking to my friends and family, filming conversations between me and other people and generally getting inside my Year Without God. During January we filmed conversations with Rob Bell, Tim Minchin, Peter Boghossian, Jerry DeWitt and Bart Campolo. With the exception of a few bits and pieces, the filming is complete and post-production is about to begin in earnest. It's now time to ask for your help.
There are 17 days left in our Indiegogo campaign. We're 31% of the way to our goal and we still really need your help. If you can support us the filmmakers financial it would be so huge. I'm excited for people to see this film because I think it will help so many other people who are in a similiar crisis of faith and conviction. Please make a contribution today. There are some pretty cool perks, too!
So many podcasts!
A great deal of my time has been spent recording podcasts and radio programs. I'm always worried that these will start to sound the same but they tend to each include something different based on what the host is interested in. Here are a few recent ones:
Everyone's Agnostic with Cass Midgley and Bob Pondillo | Feb 8, 2015
State of Belief with Welton Gaddy | Feb 7, 2015
Life 360 with Tim Jacobs | Jan 27, 2015 (This is a Christian radio show)
The Thinking Atheist with Seth Andrews | Jan 20, 2015
Freethought Radio with Dan Barker and Annie Laurie | Jan 19, 2015
Speaking
One of my favorite parts of this journey has been sharing my experiences with new groups and hearing other people's experiences. So much good can be done in this face-to-face context.
Just yesterday I was in the central valley of California, very near to where I went to high school. I spoke at a Darwin Day event with Jerry DeWitt and Glenn Branch (Deputy Director of the National Center for Science Education). It was a great time, hosted by Stanislaus Humanists and Stockton Area Atheists and Freethinkers. You can hear my talk below (not the best audio quality) and I'm sure Jerry and Glenn's talks will be up soon!
Click the Events tab above to see my whole speaking calendar. I would love to meet you at one of these events in the near future.