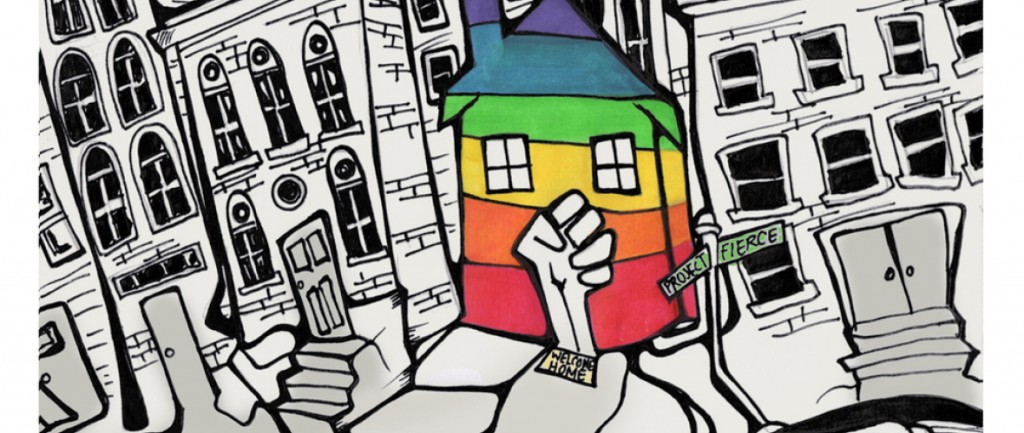 3/11/15 10:32 AM — UPDATE below…
Some disturbing things have been happening in the past couple of days at my alma mater, Andrews University.[1] An unofficial gay-straight alliance on campus called AULL4ONE decided that they wanted to have a bake sale to raise money for an agency called Project Fierce Chicago, whose mission is to "reduce LGBTQ youth homelessness in Chicago by providing identity-affirming transitional housing," Cassandra Avenatti, Project Fierce Chicago's founder, told me.
I've seen and participated in efforts like this in the past. As a student at a school that does not affirm same-sex relationships you have to get creative. Addressing the needs of a marginal group without questioning the underlying issues is one way to do this.
"This project was designed to support LGBTQ youth while trying to avoid the more controversial issues of same sex relationships directly," said Alica Battle, Andrews University Alumnus (2014) and organizer with AULL4ONE. "The only issue that I can see administration having with [Project Fierce Chicago] is that it is an organization that specifically exists to help and support the LGBTQ community in Chicago."
The student's efforts were stymied. Any student organized fundraiser, even one organized by an unofficial student group like AULL4ONE, needs approval from university administration and that approval was denied. When asked what the problem was the university said that, according to school policy, their fundraiser was in conflict with the school's mission. In an official press release, Andrews University President, Niels-Erik Andreasen wrote,
This decision was made in the context of our student fundraising policy in the Student Handbook, which states that funds may be raised for non-profit organizations "whose mission and practices do not conflict with those of the University."
This raises the obvious question: how does helping LGBTQ youth find their way out of homeless contradict the school's mission? In a longer email to the students and faculty, President Andreasen wrote,
The problem of LGBT homeless youth in particular is a heartbreaking national problem—perhaps as many as 40 percent of the homeless teens on the street at any one time are LGBT. Many of these teens were in Christian families who rejected their child's orientation and, in the process, their child. A safe place and genuine care must be provided for these homeless LGBT youth.
But… (you knew this was coming, right?)
the Church's religious and moral views do not allow for the pursuit of intimate LGBT relationships, including marriage, and as a result Andrews University's policies do not permit the raising of funds to support the work of agencies that advocate behaviors contrary to Adventist beliefs. This is true even though many unapproved agencies do valuable and important work that is within the University's mission.
I'm glad he's made that clear. Seventh-day Adventists will only support you if you abide by their moral standards. Here, again, is President Andreasen:
our objection was not to the worthy goal of serving LGBT homeless youth and their transitional housing needs but to the perceived advocacy stance of the proposed organization.

As a result, we can and will support LGBT homeless youth through organizations whose mission and purpose clearly align with the religious mission and purpose of our University and its sponsoring church. We invite our student clubs to find the appropriate organizations and opportunities to do just that.
Well, yes. Organizations that serve homeless LGBTQ youth are, by definition, advocating for them. Andreasen apparently understands the plight of LBGTQ youth who are very often homeless precisely because of their sexual orientation or gender identity. The only conclusion one can come to is that Seventh-day Adventist institutions can only support organizations that serve LGBTQ youth as long as they simultaneously condemn their sexuality. Or, as David Ferguson wrote for
Raw Story
.
In other words, the university would be happy to raise money for homeless youth, just so long as they're straight or being served by an organization that is trying to turn them straight.
When I asked Battle what kind of organization Andrews University would allow students to raise money for, she said,
When we met with Campus Ministries we were very clear about the focus of this fundraiser and they seemed very excited to work with us. When they turned the proposal down they said it was because the organization didn't follow Andrews mission standards. We asked for further clarification and they referred us to the school handbook, when that didn't clear things up we asked again. As of yet, they have not given us a concrete answer. I can only guess it's because these groups are LGBTQ affirming. The kind of group they would let us raise money for is someone like The Night Ministry which are not specifically LGBTQ oriented.
While I am sure they do good work, The Night Ministry is a specifically faith-based organization and presumably does not support same-sex relationships.
In a beautiful moment of poetic justice, Project Fierce Chicago stands to benefit from Andrews University's backwards moral views. Rather than selling baked goods, AULL4ONE leaders started an Indiegogo campaign that has already raised $3480 (the goal was $2000). That's a lot of cupcakes!
Please take a minute and support Project Fierce Chicago (a secular 501(c)3 organization) and help homeless LGBTQ youth find their way to housing.
——
UPDATE: A few people have written to tell  me that they have experience working with The Night Ministry and they are a very LGBTQ-affirming organization. In particularly, their program, The Crib "has been recognized for its leadership in providing LGBTQ-competent services to Chicago's homeless youth," according to it's website. I was actually on a panel just over a week ago at the Level Ground Film Festival talking about issues related to youth homelessness after a screening of the new documentary, The Homestretch, which follows three homeless youth and features The Crib quite prominently.
I don't want cast The Night Ministry in a negative light at all. That is not the point of my article. I suspect Andrews University saw the word Ministry in the name of the organization and figured it would match it's values more closely. One of the reasons that the students that I spoke to have been confused about the University's handing of this case is that they don't understand what makes Project Fierce, fundamentally different than Night Ministry, in terms of values. They simply felt called to support Project Fierce's transitional housing facility. Everyone is waiting for the administration to clarify what was wrong with Project Fierce Chicago.
———–
[1] I received my Master of Divinity degree from the Seventh-day Adventist Theological Seminary at Andrews University in 2000.