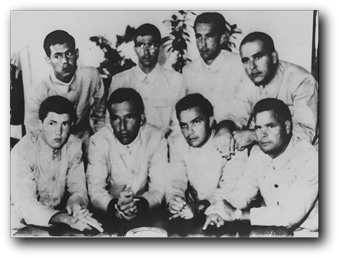 It's Presidents Day here in the U.S., and I'm on holiday. That means I get to do "honey-do's" while the rest of the family goes and watches a matinee. But before I light into the list of chores I've been given, I wanted to share this gem I uncovered on the HHS Mandate.
I'm a history buff, see? The photograph above is of the crew of the USS Pueblo. Remember the Pueblo Incident? She was boarded by the North Koreans in 1968 in "international waters" and her crew was hauled off and imprisoned for 10 months. During their internment, the crew figured a way to let folks know that they were resisting. Guess what that way was?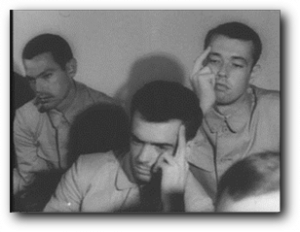 They told their captors that they were making the Hawaiian Good Luck sign.
Father Leo Patalinghug, one of my wife's favorite priests (the one who literally cooks at Grace Before Meals), has produced a little video he claims "contains too much truth for HHS Mandate supporters to understand." He too gives the Administration "the finger," much like we all need to, in the All-American example given us by the crew of the Pueblo, as they followed the Code of Conduct.
Take it away, Father Leo.
http://www.youtube.com/watch?v=7vIBN7OCRWw
I told you he can cook! Here's the information he includes under the video at YouTube.
For more information, please check out the following links:
U.S. Bishops' Response to the Mandate
Full Transcript of Notre Dame Address
Medical Article on Birth Control
Alternatives to Artificial Birth Control
Also, read all about the Pueblo and "The Digit Affair" over at Pueblo.org.