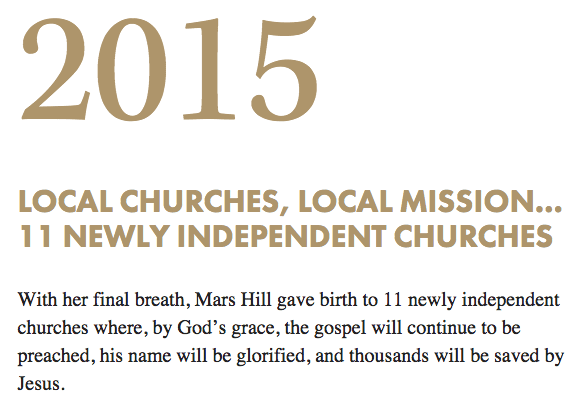 The graphic above is a screenshot from the timeline now posted on Mars Hill's post-mortem website. While much ink has been spilled on the demise of the church due to abuses and general unhealth, it's kind of striking to see the multi-site mission that Mark Driscoll manhandled into an impressive video-driven empire now dead, only to have 11 independent churches live on in its wake. And, while I'm sure there are many out there who are skeptical of these new churches and how different they will actually be from the mega-sarcophagus from which they have spawned (new boss/old boss and all that), can we at least appreciate the significance of this?
Hear me: I don't think video multi-site megachurch is necessarily bad for the Body of Christ, and I'm sure there are healthy churches that do it well (The Meeting House among them). But I do wonder: is it best? What motivates us to "build" the church in this way in the first place, and why wouldn't we simply expand by planting new independent churches, or at least networking churches with their own preaching pastors, instead of doing the one-man-on-video thing?
Why wouldn't we take a local parish kind of approach?
Something to think about as this strange story unfolds I guess. Would love to hear your thoughts on it!