Now Featured in the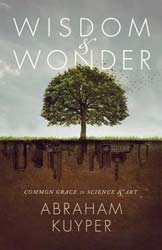 Patheos Book Club
Wisdom & Wonder
Common Grace in Science and Art
By Abraham Kuyper
About the Book
How will evangelicals respond to contemporary cultural shifts? What they believe influences how they respond and this will have significant ramifications for the future of a free society and its business, economic, and public sectors.
Sometimes the way forward is found by looking back.
Abraham Kuyper, a Dutch theologian and prime minister of Holland (1901-1905), elaborated on the doctrine of common grace, a theology of public service, and cultural engagement of Christians' shared humanity with the rest of the world.
As Kuyper noted, "If God is sovereign, then his lordship must extend over all of life, and it cannot be restricted to the walls of the church or within the Christian orbit." Kuyper's work shows us that God is not absent from the non-church areas of our common life and bestows his gifts and favor to all people.
Abraham Kuyper (1837-1920) is a significant figure in the history of the Netherlands and modern Protestant theology. A prolific intellectual, he founded a political party and a university, and served as the prime minister of Holland (1901-1905). His enduring passion was to develop a theology for the general public and was seen in his extensive elaboration of the doctrine of common grace.
3/16/2012 4:00:00 AM