Now Featured in the Patheos Book Club
The Conviction to Lead
25 Principles for Leadership That Matters
By Albert Mohler
At the age of thirty-three, Dr. Albert Mohler became the youngest president in the 153-year history of Southern Baptist Theological Seminary. He was the driving force behind the school's transformation into a thriving institution with an international reputation characterized by a passionate conviction for truth. In the process he became one of the most important and prominent Christian voices in contemporary culture.
What will it take to transform your leadership?
Effective leaders need more than administrative skills and vision. They need to be able to change the hearts and minds of those they lead. Leadership like this requires passionate beliefs that can stand up to pressure from without and within.
Now for the first time, Dr. Mohler reveals 25 principles to crystallize your convictions, revolutionizing your thinking, your decision-making, your communication, and ultimately those you lead.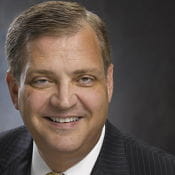 About the Author
Albert Mohler is president of the Southern Baptist Theological Seminary, the Southern Baptist Convention's flagship school. Dr. Mohler is a radio personality, blogger, and sought-after commentator.
He has been quoted in
The New York Times
,
The Wall Street Journal
, and
USA Today
.
He has also appeared on such national news programs as Larry King Live, NBC's Today Show, Dateline NBC, Good Morning America, The NewsHour with Jim Lehrer, and The O'Reilly Factor. Dr. Mohler lives in Louisville, Kentucky, with his wife, Mary. Learn more at www.albertmohler.com
11/16/2012 5:00:00 AM