Now Featured in the Patheos Book Club
Undiluted
Rediscovering the Radical Message of Jesus
By Benjamin L. Corey
About the Book
Are you ready to begin experiencing an undiluted Jesus?
Benjamin Corey confronts our vision of Jesus head-on, asking the hard question: Is what we see and hear in the modern church all there is to the message of Jesus… or is there a more radical side to Jesus than we have been led to believe?
Get ready to encounter a Jesus that is determined to turn over the tables of a stale, ineffective and boring gospel that seeks to escape from the world instead of transforming it.
This radical Jesus and His message…
Invites us to reorient our lives not on Christian religion, but on the person of Jesus
Calls us to live out faith in the context of authentic community with others, instead of isolation
Includes the excluded and invites the outcast to have a seat at the table
Responds to enemies with a radical, unexplainable love
Undiluted will invite you to step out of your comfort zone and into a process of rediscovering the radical, counter cultural, and life-changing message of Jesus. As you do, you'll discover a more vibrant faith as you embrace an undiluted Jesus and His radical message!
About the Author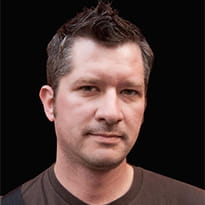 Benjamin L. Corey is a writer, speaker, and avid tattoo collector—though even he forgets that fact since he lives in Maine and is bundled up for 11 months out of the year.
He grew up in conservative evangelicalism, danced with fundamentalism, and found his home in Anabaptism.
He holds a Master of Arts in Theology from Gordon-Conwell Theological Seminary in South Hamilton, Massachusetts, a Master of Arts in World Missions (Cum Laude), also from Gordon-Conwell, and is a member of the Phi Alpha Chi Honors Society. Ben is currently completing his doctorate at Fuller Seminary in the field of misiology—which is a combination of theology and anthropology. Essentially, a missiologist studies the relationship between the message of Jesus and particular cultures.
He also briefly attended the fundamentalist training camp, Word of Life Bible Institute in the early 1990′s, but he's pretty sure they've scrubbed all evidence of that fact and would deny it if asked.
A lover of the miracle of adoption, he and his wife have chosen "adoption as a lifestyle," to show solidarity with the poor and vulnerable of this world.
He currently lives in Auburn, Maine with his wife Tracy and their Incan Cowgirl, Johanna (12). The Coreys are looking forward to the day when they will welcome more girls into their family.
In addition to writing for Patheos Progressive Christian, Ben is a contributor to Jim Wallis' blog, God's Politics on Sojourners, as well as Red Letter Christians, Evangelicals for Social Action, Mennonite World Review, and The Good Men Project. He has also been featured as a guest on HuffPost Live. Ben is a syndicated author with MennoNerds, a collective of some of the top Mennonite & Anabaptist voices today.
His first book, Undiluted: Rediscovering the Radical Message of Jesus, hits stores on August 19, 2014. Undiluted takes a hard look at the ways American culture has caused us to miss out on the most important aspect of Christian faith: Jesus. Undiluted invites you into his personal journey and into a journey of your own to rediscover that the Jesus of the New Testament looks a lot more radical than the one we often grew up with.
Ironically for an Anabaptist who has committed to a life of total nonviolence, Ben is a retired Professional Military Education Instructor with the United States Air Force.
Ben is currently working on his second book, Beyond The Tribe: Reclaiming A Better Christianity, which is scheduled for release in 2015.
9/1/2014 4:00:00 AM