Now Featured in the Patheos Book Club
Blood Doctrine
By Christian Piatt
About the Book
What would happen if scientists were to take blood samples from ancient relics of Jesus' crucifixion and extract the DNA in order to create a clone?
The self-proclaimed antagonist, God nerd and author, Christian Piatt, has been intrigued by this very idea for some time. After researching and talking with geneticists, Piatt came up with the concept for his debut novel, Blood Doctrine, which is to be the first in a series.
Blood Doctrine begins during a tense moment in a closed off room with a woman having complications during childbirth. With no care about the woman giving birth, the doctors are told by a man from a group known only as "The Project" that the baby is all that matters.
Fast-forward several years: Jacob is an orphan teen living in a group home in Colorado. He has a girlfriend and a job, but still visits Scratch, the priest back at the orphanage. All seems normal until Jacob begins having strange dreams, seeing blood appear on his hands out of nowhere, and displaying healing powers.
Meanwhile, Nica, a skeptical journalist from The New Yorker, is involved in researching the group called The Project who, unknown to her at the time, was involved in taking blood samples from the titulus crucis (the plaque that hung on the cross during Jesus' crucifixion that read "King of the Jews"), creating a clone and hoping to invoke apocalyptic end times.
This research leads Nica to Denver in search of more information and ultimately to meeting Jacob. But what role could a teenage boy play in this unfolding story line?
"I've written many books in my writing career" says Christian, "but this project has been a work of passion. I wrote it, never knowing if it would ever be published. To see it come to life, especially in the incredibly innovative and unexpected way it has, is very satisfying."
Rather than going with a traditional publishing house as he has done with his nonfiction work, Christian "crowd funded" Blood Doctrine, raising nearly $12,000 through a Kickstarter campaign and assembling an all-star cast of editors, publishers, designers and publicists to forge his own personal publishing Dream Team.
Filled with action, murder and miracles, Blood Doctrine is a brilliant story that bridges the miracle of modern science and the miracle of the crucifixion of Christ.
About the Author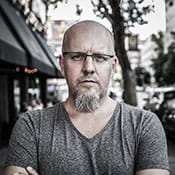 Christian Piatt is an author, editor, speaker, musician and spoken word artist. He co-founded Milagro Christian Church in Pueblo, Colorado with his wife, Rev. Amy Piatt, in 2004. Currently he serves as the Director of Acquisitions and Author Development for ChrowdScribed.com, and as the Director of Growth and Development for First Christian Church (DOC) in Portland, OR.
Christian is the creator and editor of the Banned Questions book series, which include Banned Questions About the Bible, Banned Questions About Jesus and Banned Questions About Christians. He co-created and co-edited the WTF: Where's the Faith? young adult series with Chalice Press, for which he also co-edited the book Split Ticket: Independent Faith in a Time of Partisan Politics, and contributed a chapter to Oh God, Oh God, Oh God!: Young Adults Speak Out About Sexuality and Christianity.
Christian has a memoir on faith, family and parenting called PregMANcy: A Dad, a Little Dude and a Due Date. His first book for Jericho Books, called postChristian: What's Left? Can We Fix It? Do We Care? comes out in hardback in August, 2014.
Christian's first book, LOST: A Search for Meaning, came out in 2006, followed by MySpace to Sacred Space: God for a New Generation in 2007, which was co-authored with Amy. Christian blogs at Patheos and can also be found here: www.christianpiatt.com.
5/1/2014 4:00:00 AM