Now Featured at the Patheos Book Club
Why I am an Atheist Who Believes in God
How to Give Love, Create Beauty and Find
By Frank Schaeffer
About the Book
Caught between the beauty of his grandchildren and grief over a friend's death, Frank Schaeffer finds himself simultaneously believing and not believing in God—an atheist who prays. Schaeffer wrestles with faith and disbelief, sharing his innermost thoughts with a lyricism that only great writers of literary nonfiction achieve. Schaeffer writes as an imperfect son, husband and grandfather whose love for his family, art and life trumps the ugly theologies of an angry God and the atheist vision of a cold, meaningless universe. Schaeffer writes that only when we abandon our hunt for certainty do we become free to create beauty, give love and find peace.
About the Author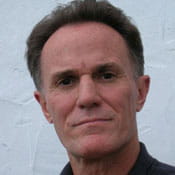 New York Times best selling author of more than a dozen books Frank Schaeffer is a survivor of both polio and an evangelical/fundamentalist childhood, an acclaimed writer who overcame severe dyslexia, a home-schooled and self-taught documentary movie director, a feature film director and producer of four low budget Hollywood features Frank has described as "pretty terrible," and a best selling author of both fiction and nonfiction.
Frank is the author of And God Said, 'Billy!' and many other books. Frank's three semi-biographical novels about growing up in a fundamentalist mission: Portofino, Zermatt and Saving Grandma have a worldwide following and have been translated into nine languages. Jane Smiley writing in the Washington Post (7/10/11) says this of Frank's memoirs Crazy For God and Sex, Mom and God: "[Schaeffer's] memoirs have a way of winning a reader's friendship...Schaeffer is a good memoirist, smart and often laugh-out-loud funny...Frank seems to have been born irreverent, but his memoirs have a serious purpose, and that is to expose the insanity and the corruption of what has become a powerful and frightening force in American politics... Frank has been straightforward and entertaining in his campaign to right the political wrongs he regrets committing in the 1970s and '80s...As someone who has made redemption his work, he has, in fact, shown amazing grace."
8/16/2014 4:00:00 AM