Now at the Patheos Book Club
Reimagining God
The Faith Journey of a Modern Heretic
By Lloyd Geering
About the Book
Described by the BBC as "the last living heretic," Lloyd Geering has spent much of his life wrestling with God. Of late, however, he finds himself struggling with the absence of God. The rise of nonreligious, secular culture around the world testifies that he is not alone, that the concept of God has become problematical. Should God be abandoned altogether? Can God be reformed, so to speak?
Drawing from theology, science and his own faith journey—from his call to ministry, through his much-publicized heresy trial, to decades of public speaking, teaching and writing, Geering retraces key developments in the Western understanding of God. He imagines a new spirituality, one that blends a relationship to the natural world with a celebration of the rich inheritance of human culture.
Praise for Reimagining God
"Lloyd Geering not only writes brilliantly about the evolution of religious thought in the Western world, but he has also lived it. His essays thus ring with an authentic integrity. If one wants to explore Christianity's future, there is no better guide available today than this unique human being."
— John Shelby Spong, The Fourth Gospel: Tales of a Jewish Mystic
"Lloyd Geering is a man of remarkable fortitude and vision."
— Don Cupitt, Emmanuel College, Cambridge
About the Author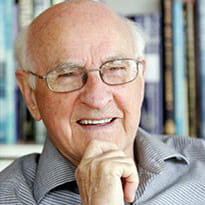 Lloyd Geering was made Principal Companion of the New Zealand Order of Merit, topping New Zealand's new year's honors list for 2001. This is the first time the strictly New Zealand honors have been given. Previously New Zealand granted Imperial Honors, under which Lloyd Geering would have been made a knight commander.
Previously honored in 1988 as a Companion of the British Empire, Lloyd Geering is a public figure of considerable renown in New Zealand, where he is in constant demand as a lecturer and as a commentator on religion and related matters on both television and radio. In 1966, he published an article on "The Resurrection of Jesus" and, in 1967, another on "The Immortality of the Soul," which together sparked a two-year public, theological controversy that culminated in charges by the Presbyterian Church of New Zealand—of which he is an ordained minister—of doctrinal error and disturbing the peace of the church. After a dramatic, two-day televised trial, the Assembly judged that no doctrinal error had been proved, dismissed the charges and declared the case closed.
Live footage from the heresy trial can be viewed in the 2007 Top Shelf documentary The Last Western Heretic, available in North American format from Westar Institute.
10/31/2014 4:00:00 AM