Now Featured in the Patheos Book Club
Make Magic of Your Life
Passion, Purpose, and The Power of Desire
By T. Thorn Coyle
For pagans or anyone with magickal leanings everywhere, internationally known Pagan and mystic T. Thorn Coyle offers a unique path to make everything in one's life alive with magic in Make Magic of Your Life.

Coyle shows how to achieve harmony and balance and find your true purpose by activating the magical Qabalistic formula known as The Four Powers of the Sphinx: to know, to will, to dare, and to keep silent.

In Make Magic of Your Life, Coyle explains how our deepest failings are often the very things that fuel our life's work, keep us human and whole, and even make us act as though-like Prometheus-we can steal fire from the Gods.

From the Introduction:
"Working magic means showing up with your demons and your divinity, your sorrow and your joy. Alchemy only happens when we are willing to go through the processes of gathering together, refining, pouring, and solidifying. In the end, we have something fine to hold."

Coyle shows readers how to draw on the four powers of the sphinx to discover their "soul's possibility," their life's work, that which they most long to do.
About the Author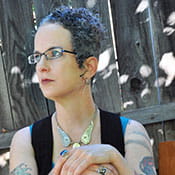 T. Thorn Coyle embraces listening, compassion and connection as platforms for action, manifestation, and justice. Activist, musician, and internationally respected teacher of the esoteric spiritual arts, Thorn is the author of the forthcoming Make Magic of Your Life: Purpose, Passion, and the Power of Desire (March 2013: Weiser Books, an imprint of Red Wheel/Weiser, LLC) as well as Kissing the Limitless, Evolutionary Witch, and Crafting a Daily Practice. She has been called a Master Teacher.
Thorn hosts Elemental Castings and Fiat LVX! video series, writes a popular blog, Know Thyself, has produced several CDs of sacred music, and appeared in many anthologies. Her spiritual direction practice-which includes soul reading, and body/spirit coaching-reaches people all over the world. She is founder and head of Solar Cross Temple and Morningstar Mystery School and lives in the San Francisco Bay Area.
Thorn's unique body of work has touched the lives of many. Her clients include ministers, professional athletes, coaches, artists, activists, parents, and business owners.
She works with Buddhists, Christians, Muslims, Jews, and Atheists on justice issues. She has spoken on homelessness and the death penalty in Catholic churches and led services at Sojourner Truth, the first African American Unitarian congregation in Washington, DC. Thorn has presented at the Parliament of the World's Religions and the National Covenant of Unitarian Universalist Pagans. She speaks at conferences and teaches workshops worldwide, and is a member of Spiritual Directors International. Visit her at: www.thorncoyle.com.
3/1/2013 5:00:00 AM