Through an incredible series of events, I found myself knee to knee looking into the eyes of one of the great icons of the silver screen, with twenty minutes to discuss humanity's biggest questions. Whether embodied in the wisdom of Shawshank Redemption, the divinity of Bruce Almighty, or the courage of Glory, Morgan Freeman's onscreen persona and reputation is one of the most compelling in Hollywood. His latest project — The Story of God (premiering Sunday, April 3rd on the National Geographic Channel) — is no different, as it transcends any dramatic cinematic story and finds its life in the embodied stories of humanity seeking a reality within and beyond ourselves.
We live in a cultural climate of heightened rhetoric, relational distance, and snap stereotypes directed toward those of different faiths, belief systems, and world views. Rather than leaning into differences with curiosity, we are retreating to our corners in critique. This is a problem, and it is darkening the very soul of our collective humanity. As a follower of Jesus and one who is continually learning in the diverse classroom of global relationships (see my organization, The Global Immersion Project), I see this movement away from one another as a direct contradiction to a God who relentlessly moved toward "the other."
Scholar and theologian Paul Knitter describes it well when he refers to one's inherited worldview as a telescope. No matter how objective we may think we are or desire to be, we all see the world through a specific telescope/worldview that is informed by our familial upbringing, dominate culture, religious tradition, and personality. When we choose to look through the telescope of people who are "different" than us, we begin to get a more holistic picture of the world and the way God is at work within it. Ironically, we often fall victim to delegitimizing telescopes that are different than our own before we even seek to look through them. We write them off as "crazy" or "strange" or "radical." While I'm not at all arguing we aren't different (actually, quite the opposite!), I am saying there is no more important moment for us to look through the telescope of those who are different than us as we embrace our role as global citizens.
It was with this metaphor that I opened my interview with Morgan Freeman and thanked him for investing so much into creating a resource that would give us a small glimpse into the telescope of people across the world from different religions, traditions, and cultures as they pursue their quest for God.
In the stoic, introspective, and thoughtful demeanor unique to Morgan, he slowly settled into his seat and said, "Hmm, I like that."
He then cracked a joke in his relentlessly dry, but witty humor, and we were off into one of the more fascinating conversations of my life. I'd say it was the most fascinating, but my three- and five-year-old daughters still hold that title.
Here are three things I'm wresting with as a result of my conversation with Morgan Freeman based on The Story of God:
:::page break:::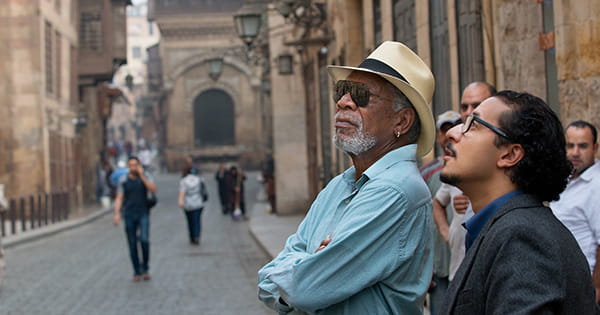 1. We all believe. It's not weakness; it's reality.
The first question I asked Morgan was simple, "What were the questions you were asking that compelled you to host this show and how were they informed by your personal journey toward God?"
Unapologetic about his own desire to explore the mystery of believing in a transcendent God, he said, "I think it is the same thing that has compelled us from the beginning of human existence. Who is that? Who's first, me or God? If God is first, the question is 'Why Me? Why am I here? If there is a reason, what is it? Is there indeed an afterlife?' All those questions have come in the past; what do other people think along those lines? How do other cultures deal with those same questions?"
In a culture that sometimes associates belief in a God who can't be contained within the human constructs of academia, church history, or clean definitions, it would be easy to be apologetic about believing in God. For Morgan, a desire to believe in a God is assumed. "We all believe there is another side... The point is, 'I believe.' No matter the system, they believe. What you believe is not nearly as important as the fact that you believe." The questions come in how we interpret God's interaction with humanity and all the cosmos, not in the actual existence of something beyond us worth believing in.

4/1/2016 4:00:00 AM