Now Featured in the Patheos Movie Club
The Letters
A film by William Riead
JULIET STEVENSON (Mother Teresa)
Juliet Stevenson is an English actress whose many notable film credits include Anthony Minghella's Truly Madly Deeply (1990), opposite Alan Rickman; Gurinder Chadha's Bend It Like Beckham (2002), alongside Keira Knightley and Parminder Nagra; and Mike Newell's Mona Lisa Smile (2003), with Julia Roberts and Kirsten Dunst. Stevenson's services to drama were honored with inclusion on the 1999 Queen's Birthday Honors List and she was awarded the C.B.E. (Commander of the Order of the British Empire). Most recently, she starred in Andrew Steggall's family drama Departure. Stevenson will next be seen in the forthcoming romance Love Is Thicker Than Water and the British TV miniseries "One of Us".
Previous film credits include Diana, Triage, Desert Flower, The Secret of Moonacre, A Previous Engagement, When Did You Last See Your Father? Breaking and Entering, Infamous, Red Mercury, Being Julia, Nicholas Nickleby, Emma, The March and Drowning By Numbers. Television work includes "The Enfield Haunting,""Atlantis,""X Company,"The Village,"White Heat,"Law & Order: U.K.,"Inspector Lewis,"Agatha Christie's Marple and The Politician's Wife.
Widely acclaimed for her skill on the stage, Stevenson won the 1992 Laurence Olivier Theatre Award for Best Actress, which honored her work in "Death and the Maiden." She also earned rave reviews for playing Stephanie Abrahams in Tom Kempinski's "Duet for One" at the Vaudeville Theatre, opposite Henry Goodman.
Stevenson was born in Essex, England. She and filmmaker Hugh Brody have two children, Rosalind and Gabriel.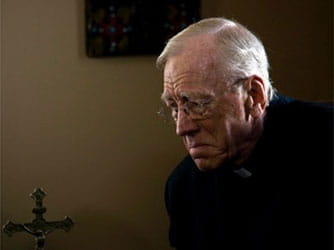 MAX Von Sydow (Father Celeste van Exem)
Max von Sydow has become one of the worlds most admired and prolific actors and is the only male Swedish actor to get an Oscar nomination.
Over the last 65 years, actor Max von Sydow has delivered memorable performances in The Seventh Seal, The Exorcist, and Three Days of the Condor, Minority Report and Extremely Loud and Incredibly Close, which earned him his second Academy Award Nomination.
His work in the movies by Ingmar Bergman (especially The Seventh Seal (1957), that includes the iconic scenes in which he plays chess with Death) was a turning point for his career, which introduced him to American audiences. Some of his most iconic roles are Jesus in The Greatest Story Ever Told (1965); Hawaii (1966) and The Quiller Memorandum (1966). Since then, his career includes very different kind of characters, like Karl Oskar Nilsson in The Emigrants (1971); Father Lankester Merrin in The Exorcist (1973); Joubert the assassin in Three Days of the Condor (1975), Emperor Ming in Flash Gordon (1980); the villain Ernst Stavro Blofeld in the Never Say Never Again (1983); Liet-Kynes in Dune (1984) the artist Frederick in Hannah and Her Sisters (1986); Lassefar in Pelle the Conqueror (1987), for which he received his first Academy Award nomination; Dr. Peter Ingham in Awakenings (1990); Lamar Burgess in Minority Report (2002) and The Renter in Extremely Loud & Incredibly Close (2011).
11/19/2015 5:00:00 AM